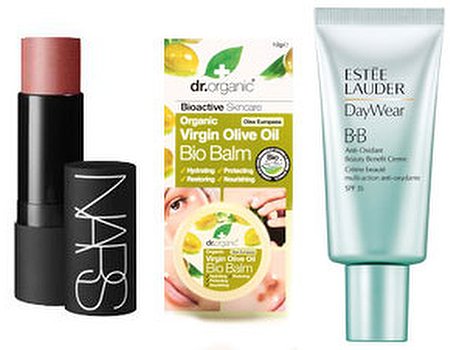 There are so many different beauty products out there that it's no wonder models and celebrities favour oversized It-bags. However, there is a smarter way to manage your makeup than scrabbling around in the bottom of your handbag - invest in some multi-purpose products and getting ready need never be stressful again.
Not only do multi-tasking makeup marvels take up less space, but they'll also save you some money in the long run, as you won't have to splash out on a variety of products. Convinced? We thought you might be. Here are some of the beauty buys that we refuse to leave the house without:
NARS Multiple Stick
Don't be fooled by the simple packaging of this cult classic - the product inside has been known to answer many a beauty prayer. Designed to be used on eyes, cheeks, lips and body, the creamy formula blends to provide sheer colour that's ideal for contouring, highlighting and adding shimmer. Thanks to a foolproof applicator, it really is the best way to get a glow on the go.
BB Cream
We're still in love with BB Cream, the ultimate product for moisturising, smoothing and evening skin tone. Used as a primer it provides a great base for makeup – alternatively, use in place of tinted moisturiser or foundation to provide coverage. We love Garnier Miracle Skin Perfector and Estée Lauder Daywear BB Cream – both fantastic makeup bag staples.
Dr Organic Virgin Olive Oil Bio Balm
We've recently discovered this nourishing balm from Dr Organic, and we're pretty hooked. Made from natural ingredients, including cocoa butter and argan oil, the balm can be used on the lips and dry skin to hydrate, protect and restore. We reckon it'd also be good for keeping eyebrows in check and moisturising cuticles – the possibilities are endless...
Love makeup? Keep an eye on our community page for articles on the latest beauty trends and celebrity looks, or head over to our makeup treatments page and spoil yourself with a makeover.