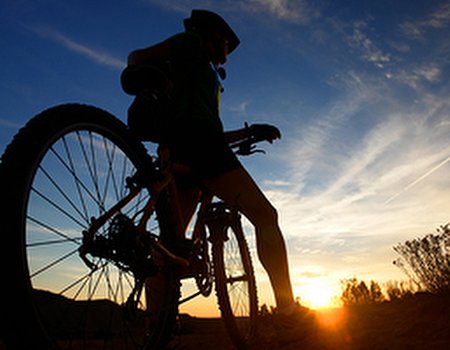 If at first you don't succeed, dust yourself off and try again. You might not usually be on good terms with Mondays, but we think that's no reason not to give this one a chance. After all, today could be the day you take up a different form of exercise, find that perfect Valentine's gift or even experiment with a fashionable new look...
Good news
Fed up with sweaty, stuffy public transport? According to retail experts at Barclays, there's never been a better time to get on yer bike. With Olympics fever already beginning to grip the nation, 2012 is likely to see a 5% growth in the cycle market – with more and more people choosing to swap petrol for pedals.
Aside from the environmental benefits and the cost implications (who wants to spend hundreds of pounds on the Tube, only to spend an hour every day feeling like a sardine?), cycling is a fantastic way to stay in shape. So go on, hop on the saddle and turn your journey to the office into a workout – your body and your bank balance will both thank you for it.
Top treats for the week ahead
Baylis & Harding gift set – Pamper someone special and make their week. Whether you fancy simply giving a loved one a surprise, or are looking for a great gift to set aside for Valentine's Day or Mother's Day, we've got just the thing. With fragrances of rose, ylang ylang and patchouli, this 10 piece Baylis & Harding gift set is sure to go down a treat – and at just £12.50, you might as well snap one up for yourself, too...
50% off a 5 night detox retreat – Diet not been going as well as it could have done recently? Don't fret – our half price offer for a five night stay at detox retreat Slimmeria will help you to avoid temptation. With a daily fitness programme and diet plan, you'll be able to shed those extra pounds in next to no time – perfect for showing that body off in a new spring wardrobe.
Course of 6 Soprano laser hair removal treatments – Nobody wants to be hirsute, especially when Valentine's Day is looming – so why not fight the fuzz with a course of Soprano laser hair removal, focussing on an area of your choice. You're sure to be a smooth operator after this treatment...
If you try one new thing this week, make it...
Nail art. Painting your nails is a great way to spruce up your look and keep your finger on the fashion pulse without having to invest in a whole new wardrobe. The best thing about nail art is that you can really let your imagination run riot by experimenting with recent trends or thinking up your own creative designs. For some inspiration to get you going, why not visit our nails board on Pinterest – we've collected lots of fun and wearable looks for you to try your hand at.
Need a little something extra to get you going for the week? We wish we could turn Monday into Friday, but unfortunately we've left our magic wands at home. Luckily, however, we do have an inspirational quote to help put a spring in your step – head over to our Facebook page to take a look.