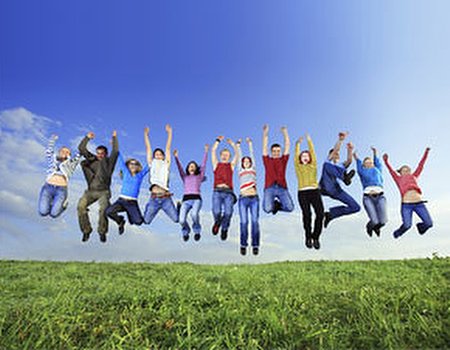 Here at Wahanda, we're feeling full of beans – but we appreciate that not everyone is. After all, when Friday evening is but a distant memory, and you're in front of your computer instead of in the park, it can be hard to find the motivation that you need to get you through the week.
Luckily, there are a few sure fire ways to get yourself into gear and ready to face the week ahead. From finally finding a form of exercise to suit you, to getting a new hairdo or finding an affordable way to relax, we've got lots of ideas to help you get into the swing of things. Have a look at these:
Good news
Find it a chore trying to fit exercise into your daily routine? We may just have found the solution... Proponents of the popular High Intensity Training method (HIT) firmly believe that it's quality, and not quantity, that counts. HIT sessions focus on brief bursts of intense exercise (sometimes as short as 4 minutes), and are designed to increase stamina, improve strength and release fatty acids. They are also said to burn fat twice the amount of fat as a regular gym session – great news if the thought of doing an hour on the treadmill fills you with dread.
Top treats for the week ahead
Three day fitness boot camp at Hillmotts, £149 - Forget using the weather as an excuse – you've got no reason not to fulfil all those New Year's resolutions that you've been trying to ignore. So why not sign up for this all inclusive boot camp and enjoy getting fit in the sunshine? Squeezing into that bikini might not prove so difficult, after all...
Hair consultation, cut and blow dry at Burlingtons, £18 – Now that we can't hide our hair under woolly hats anymore, we're looking for some help with freshening up our 'dos. This great offer for 60% off a haircut and blow dry with welcome drinks, consultation and head massage is just the thing we need to beautify our barnets this season. It's also redeemable at 7 Burlingtons venues nationwide – so there's no reason to miss out.
Floatation therapy sessions, from £17 – Feeling a little flustered? Need some time to unwind? Head over to City Relaxation Centre, Canary Wharf, and let your cares float away. With a choice of one floatation session for £17, or three for £49, you'll be able to get yourself feeling nice and relaxed in no time.
If you try one new thing this week, make it...
Aqua aerobics. Start the week with a splash and dive straight in with an exciting new hobby. A great way of cooling down in the warmer weather, aqua aerobics are a low impact way to stay fit and keep in shape this spring. The group environment means that you'll be able to make new friends, and the water resistance means that you won't do yourself any damage whilst working out. So come on then, grab your cossie – it's time for a bit of a pool party...
Need some more motivation to get you going this week? If the sunshine isn't quite enough to get rid of that Monday feeling, try heading over to Facebook for an inspirational quote from Oprah Winfrey.