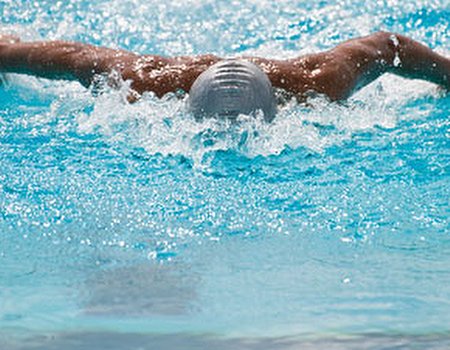 After a weekend spent relaxing and pampering ourselves, we're feeling ready to handle whatever this week throws at us. Of course, if it happens to throw manicures, spa breaks and cupcakes our way, then all the better...
Fancy looking and feeling fabulous? Have a quick peek at this week's top treats for a bit of pampering, and don't forget to eat your greens along the way, too. And of course, just in case you start feeling a bit too comfortable, you could always follow our fitness advice and take the plunge...
Good news
We all know that we're meant to eat our 5-a-day to stay nice and healthy – but recent research has shown that getting plenty of fruit and veg can work wonders for our skin, too. Scientists at the University of St Andrews have found that the carotenoid-based colouration found in fruit and vegetables can contribute to a healthy looking complexion – in particular increasing the amount of red and yellow tones found. Time to head to the greengrocers, everyone – pale skin is so last season...
Top treats for the week ahead
3 night spa break for two in Austria, £365 – Picture an idyllic hotel set amidst the mountains of Austria's beautiful Tyrol. Add to that €200 worth of spa treatments, unlimited use of facilities, dinner, wine and an exciting excursion, and what do you have? Well, at £365 for two people, we think you've got a pretty good holiday bargain. Passports at the ready...
50% off at home gel nail kit – At Wahanda, we're currently obsessed with our nails – and we're having lots of fun experimenting with this season's new colours. Of course, the cost of a regular manicure can quickly mount up – so we've got our eye on this clever kit, ideal for helping us to get terrific talons at home.
Up to 60% off a choice of luxury treatment and cupcake, London – Say no more - we were hooked at 'cupcake'. 108 New Bond Street salon, Mayfair, is giving Wahanda users the chance to indulge in a choice of treatment and a sweet treat for just £30 for one or £59 for two. We don't know about you, but we think that it's a pretty irresistible offer...
If you try one new thing this week, make it...
Outdoor swimming. It may still feel rather chilly out there, but that's not enough to stop certain determined swimmers...Brave (or mad, depending on how you look at it) members of the Serpentine Swimming Club (www.serpentineswimmingclub.com) swim in the open air all year round, even on Christmas Day. We imagine that they probably think the current weather is positively balmy...
Of course, if you'd rather not have to defrost yourself after exercising, you could always head to your local indoor pool for a slightly warmer experience – we won't judge you, promise!
Feeling ready to take on the world? For a little extra motivation, head on over to our Facebook page – we've put up an inspiring quote to set you on the right track.