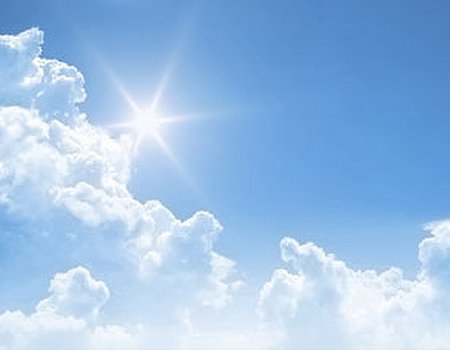 Hang on a minute – where did the sun go? One moment the weather was so glorious we thought we'd time-travelled a month into spring, and now the sky just seems to be grey and gloomy again. Still, at Wahanda we're not ones to be negative – and we're determined to make the most of life, whatever the weather. Just think of it this way – we've all gained a little extra time to get ready for that spring wardrobe...
Feeling a bit down in the dumps? In order to kickstart your week and get you in the mood this murky Monday, we've got some great ideas to help lift those spirits. Why not try some of these:
Good news
We're all going on a (pre-)summer holiday...Thought you had to live near the Equator to enjoy a spot of sunshine all year round? Think again. In actual fact, you don't need to travel any further than Shrewsbury...
The Medieval English town may seem like an unlikely destination for a day at the beach, but that's exactly what Allan Sharrock's innovative new retreat, the Miruji Beach Spa, offers. An exotic escape featuring real white sand from Mauritius, plenty of palm trees and simulated sunshine, a trip to the Beach Bar will really knock those winter blues for six. It's also ideal for those suffering from low vitamin D levels – which is just as well, really, given that the real sun seems to have gone AWOL.
Top treats for the week ahead
32 piece makeup brush set, £24.99 – This timely offer is the perfect excuse to start experimenting with pretty looks for spring. With pastels hitting all the shops and blusher big news during London Fashion Week, we can think of plenty of styles we'd like to try out. And with an impressive 64% off these natural hair brushes, it looks like we'll have the perfect tools to assist us.
68% off 60 minute luxury massage, London – A massage is the perfect way to ease tired muscles and soothe a troubled mind. If you were relying on the sunshine to lift your mood and get you feeling motivated – why not opt for a hot stone massage instead? You'll be feeling all warm and fuzzy in no time.
£18 cut, finish and treatment, Leeds – Banish the effects of winter hat-hair with a stylish cut, blow dry and finish at Jon Kinsey Salon. And as if saving 72% on luscious locks wasn't already fabulous enough, you'll also get to enjoy a free glass of wine. Cheers!
If you try one new thing this week, make it:
A spray tan. Fancy swapping pretty and pale for beautiful and bronzed? A spray tan is a safe way of simulating a sun-kissed glow and overhauling your look. And there's no need to wind up looking like a baked bean, either – most salons will offer a gentle shade for first-timers or those looking to keep it nice and subtle. Organise an appointment now and you won't be afraid to bare those legs when the sun finally decides to put in a more permanent appearance...
Fed up with having to crank up the radiator once more and fish your gloves out of storage? Yes, we were all a bit optimistic last week, but optimism isn't always a bad thing. To celebrate looking on the bright side, we've chosen a motivational quote from one of our favourite icons – you can see it over on the Wahanda Facebook page. Happy Monday!