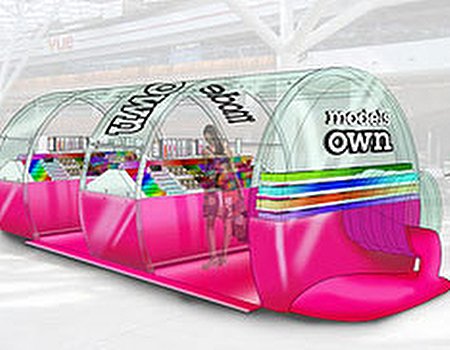 From April onwards, hitting the bottle is set to be replaced with a new form of stress-relief – hitting the Bottleshop. Much better for your health than drowning your sorrows in the bottom of a martini glass, this inspired form of retail therapy will be brought to us by Models Own – a firm favourite with fashionistas nationwide.
There's no subtle allusion going on here – the Bottleshop will literally be shaped like a bottle of nail varnish, and will sell over 200 Models Own shades. Ok, so you might find yourself feeling a little bit like a Lilliputian – but it'll certainly make a change to browsing the shelves in Boots.
'You hear about other brands trying to create 'immersive shopping experiences,' said Models Own's CEO Mark Rodol, 'so we've taken this literally by asking people to actually shop in the world's largest bottle of nail polish!'. Good work, Mark – we like people who think outside the box. Or, er, inside the bottle...
The Bottleshop is due to launch at London's Westfield shopping centre, Shepherds Bush, in April this year. We don't know about you - but we'll be rushing straight over when it does. We hope the crowds don't cause a bottleneck...
Can't wait until April to get your talons looking ship-shape? We've got lots of great manicure and pedicure offers on the site to help you nail the gorgeously groomed look. Hooray!