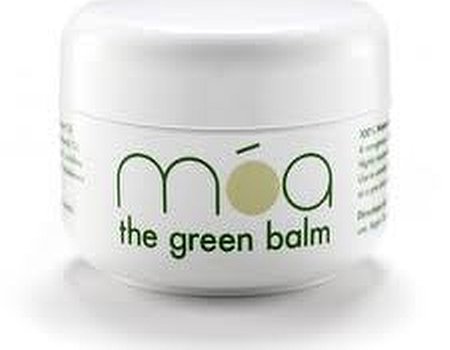 As you may have gathered from our recent posts on Tiger Balm and Apodea, we're a bit barmy about balms. We never leave the house without these powerful pocket-sized products, and now we've got a new favourite – Moa's Organic Green Balm.
A true multi-tasker, the Green Balm contains yarrow: a herb historically used to treat all sorts of ailments. Completely free from chemicals, artificial preservatives, perfumes and alcohols, this clever balm also contains tea tree oil, beeswax, coconut oil, sweet almond and soya bean to nourish and defend your skin. It's suitable for little ones as well as adults, and won't irritate sensitive types – good news if you tend to come out in a rash when you so much as look at a product.
So what exactly can you use this versatile balm for? Amongst its many uses are nourishing dry skin, fading stretch marks, treating insect bites and grazes, moisturising chapped lips and cleansing the face. As if that wasn't enough, you can even (and this is our favourite part) dissolve a spoonful in water to soothe a sore throat. We're really quite impressed...
As well as being 100% natural, the Moa Green Balm is suitable for vegetarians and is not tested on animals – so you won't have to put up with dirty looks from your cat when applying it.
The Green Balm can be purchased in a variety of health stores - for more information, visit www.thegreenbalm.com . Like the idea of nourishing and hydrating your skin? Check out our offers on facials and body treatments to get you soft and smooth in no time.