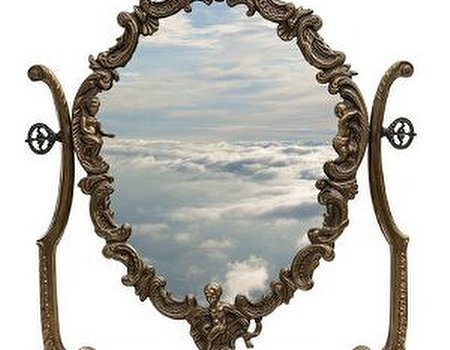 Did you look in the mirror when you left the house this morning? Or perhaps sneak a quick peek at your reflection in a shop window on the way to work? A recent UK-wide study by cosmetic surgery group Transform has shown that there are a number of different factors which may affect how often we admire ourselves. Why not stop gazing into your own eyes for a moment and have a read of these...
Women are twice as likely to look in the mirror than men
People in Essex and Yorkshire are the most vain (surprised, TOWIE fans?)
Those living in Northern Ireland are the least likely to check their appearance
Those with blonde hair are more likely to gaze into the glass than those with other hair colours – with bottle blondes ranking as the worst culprits
However, whilst region, gender and hair colour all play a role, one of the biggest factors in the study was revealed to be age. The report showed that 51% of 18-24 year olds look in the mirror 10 times a day, compared with just 9.4% (that's one in ten) of 45-54 year olds who regularly check their reflection. The over 45s were even discovered to have less mirrors in their homes than younger people – well, at least they're reducing their risk of seven years bad luck...
When asked why they tended to steer clear of their reflections, more than a quarter of those aged 45 and over attributed their dislike of mirrors to the ageing process. Summing up, Transform spokesperson Shami Thomas said: 'We don't like what the ageing process does to us and by the time we reach 45 we are no longer, as far as most are concerned, looking our best. Those pesky mirrors just remind us that we're not getting any younger and so we tend to look into them far less.'
At Wahanda, we believe that you should feel confident looking in the mirror whatever your age (unless you're a vampire, of course). Beauty isn't a number, it's a way of life – so whether you choose to grow old gracefully or get a bit of help, there's no reason why you can't look as good on the outside as you feel on the inside. Here are some of our favourite tips on how to stay friends with your reflection:
Nice and natural
Facials – refresh, revitalise and rejuvenate your skin with a hydrating facial. Indulging in a luxury facial treatment is also a fantastic way to relax – what's not to love?
Eyebrow shaping – defined brows can help to lift your features and give a youthful appearance – without the need for any invasive procedures.
Skincare consultation – if in doubt, turn to the experts. During a skincare consultation you will learn how to create a specially tailored skincare regime focussed on keeping your reflection radiant.. Wrinkles? What wrinkles?
The cheat's way (sssh, we won't tell)
Hair colouring – greys making you feel blue? Hair colouring is a great way to hide unwanted silver strands and restore shine to tired hair.
Botox – if you're looking for a bit of help to turn back the clock, Botox injections could be just the thing. By relaxing your facial muscles, Botox smoothes out those lines – leaving you feeling fabulously fresh-faced.
Facelift – strictly for those who aren't afraid of going under the knife, a facelift is a surgical procedure that removes excess fat and tightens the skin. The anti-ageing weapon of choice for many celebs, facelifts are a popular way to lose those lines and get rid of wrinkles.
Don't feel like doing anything drastic, but want to get your war paint on before you brave the mirror? Why not indulge in a makeup treatment to get you looking your best.