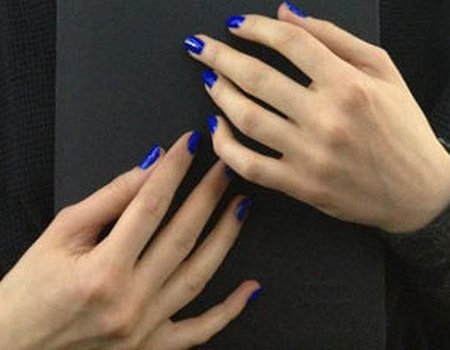 This week, the front rows of all the hottest London Fashion Week catwalk shows were crammed with celebrities desperate for a glimpse of the latest couture creations. Now, the Wahanda girls may not quite have been rubbing elbows with Anna Wintour - but we did fish out our binoculars to keep an eye on all the emerging hair and makeup trends. Suffice to say, it looks like it's time to go all out on the beauty front...(after all, keeping it subtle is so last season).
Bold nails
Statement manicures made an appearance both on the catwalk and off, with electric blue nails at Erdem (pictured) and intricate black heart designs at PPQ. Alexa Chung caught the attention of other partygoers at the People Tree party, where she sported an unusual Evil Eye nail art design. We're not sure how much good her novel mani will do when it comes to warding off evil spirits – but we won't deny that it looks pretty fabulous!
Statement hair
Designers didn't shy away from bold barnets this Fashion Week, with models seen showcasing elaborate mohawks at Louise Gray and hats made of hair at Alexander McQueen. We don't think that we'll be copying the more extreme looks any time soon, but we do fancy trying out a dip-dye such as those seen at Pringle, or a sleek bun in the style of Peter Pilotto. Hairspray at the ready!
Red lips
Red lips were rocked by a number of models this week, but it was the crimson shade at Emilia Wickstead that really caught our eye. The striking red was paired with pale skin and simple hair for a captivating evening look that oozed glamour. Guess what we'll be adding to our makeup bag...
A touch of blush
The models backstage at Issa appeared picture perfect with their pale skin and rose-hued cheeks. We'll definitely be taking inspiration from this feminine look and investing in porcelain foundation and a warm blusher – rounded off with a touch of pink lipstick.
Colourful eyes
After falling in love with the iridescent MAC eye makeup at Jason Wu during New York Fashion Week, we've got to admit we're pretty smitten with the look the brand created for the Vivienne Westwood Red Label show on Sunday. Models looked stunning in shades of turquoise blue and jewel green – with shadow swept up as high as the eyebrows. Definitely one to file away for future...
To have a peek at all of these luscious looks and more, visit our London Fashion Week Pinterest board. In love with the eye makeup at Vivienne Westwood or unsure about the hair hats at Alexander McQueen? Feel free to comment on the board and let us know – we'd love to hear from you.
Image courtesy of @Pat_McNulty