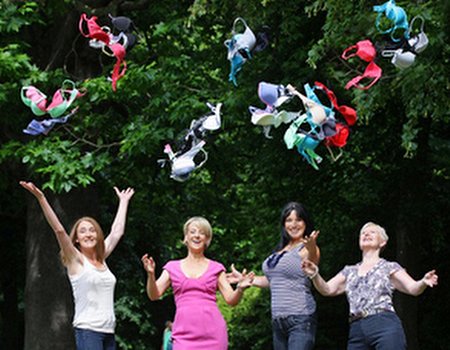 As you probably know, Breast Cancer Awareness Month is currently in full swing – and we love all the great ideas that businesses have come up with to help support this valuable cause. We recently encouraged you to treat yourself to a shopping spree to raise money for Breakthrough Breast Cancer, and now we want you to take off your bras (yes, you read that right) and get ready to donate them to your local Curves clubs. Well, what are you waiting for?
No, it's not a new feminist fad – fitness chain Curves want you to lose the lingerie on behalf of Breast Cancer Care, a charity that supports cancer patients and carries out important research. For every 17 bras deposited in one if the special pink bins in Curves clubs nationwide, the group will donate £1 to Breast Cancer Care. Sounds like it's time to start stripping off...
But what's going to happen to all the bras, you may well wonder? We all take our underwear for granted, but in many third world countries bras are few and far between. All the lingerie collected in the pink Curves bins will be sent abroad to underprivileged women for whom bras are a real luxury. Well, beats recycling your bra as a makeshift slingshot...
Ready to whip it off for charity? We can help you top find your nearest Curves club.