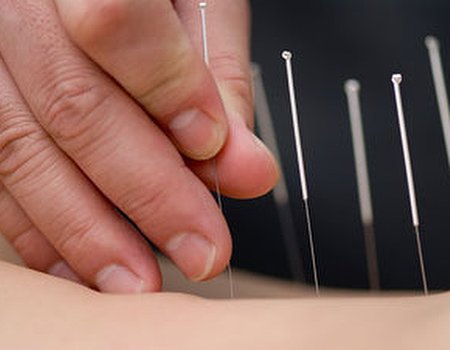 Mention a massage and you'll find that people immediately start daydreaming of a relaxing hot stone experience or a soothing back rub. Mention acupuncture, and the same people go running for the hills...
As a nation, we seem to have a collective fear of acupuncture – something which Acupuncture Awareness Week (27th February-4th March) aims to dispel. According to Nick Pahl, CEO of the British Acupuncture Council (BAC), those who associate the therapy more with porcupines than with pampering may simply not be in possession of the facts.
Nick says: '2.3 million acupuncture treatments are carried out each year by traditional acupuncturists and this figure is rising, yet this research shows myths surrounding the therapy still remain strong. Acupuncture Awareness Week, the first of its kind, aims to banish the myths and provide all the answers for those people who want to try acupuncture.'
Amongst those who have got stuck in (no pun intended) to this ancient Chinese therapy, enthusiasm for the treatment is rife. Supporting this week's Acupuncture Awareness campaign is TV presenter Clare Nasir, who, like many others, feels that acupuncture has changed her life. Clare received acupuncture from BAC practitioner Bernard Nolan to support her IVF treatment, resulting in the healthy birth of daughter Sienna. Understandably, she's keen to spread the word.
But no matter how much good we hear about alternative therapies, most of us are inclined to stay on the safe side. Put off acupuncture by the thought of needles? Concerned about the treatment's safety? Here are some of the questions that Acupuncture Awareness Week aims to address:
I'm scared of needles – is acupuncture for me?
According to recent research, over a quarter of adults think that an acupuncture needle is similar in size to a sewing needle. No wonder everyone's feeling so squeamish! In actual fact, acupuncture needles are only the width of a human hair, and some are just 0.13mm in length. As a result, sessions tend not to be painful, with most patients reporting a slight tingling sensation and an overwhelming feeling of relaxation. No need to worry there, then...
I'm sceptical - does acupuncture actually work?
45% of 3000 men and women polled on the topic of acupuncture believe that the therapy can be used effectively to treat medical conditions – a sign that times are changing and that people are starting to take note of clinical evidence. A number of studies exist to support the claim that acupuncture can be beneficial in treating a variety of symptoms, and the National Institute for Health and Clinical Excellence (NICE) guidelines go as far as to recommend acupuncture as a first line treatment for persistent, non-specific low back pain. Looks like this therapy is more than just a groundless tradition...
I'm worried about the risks - is acupuncture safe?
An incredible 72% of those polled had no idea that acupuncture practitioners must seek a licence to practise from local councils before they are able to administer treatment. In order to obtain a licence, acupuncturists must be fully qualified, in addition to adhering to codes of safe practice and professional conduct. If in doubt, look for a practitioner who is registered and ensured by the British Acupuncture Council – this will help to make sure you are in safe hands. Phew!
Ready to cast the myths aside and find out whether acupuncture could make a difference to you? Visit www.introducingacupuncture.co.uk for more information on the therapy, or have a browse of our acupuncture treatment page to find a qualified practitioner near you.