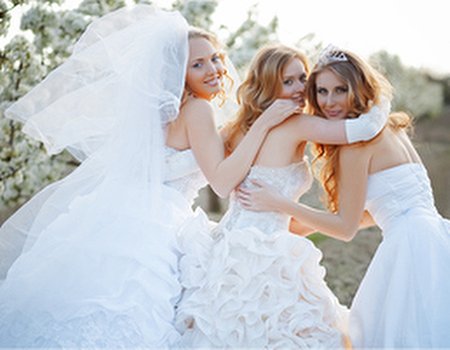 There seem to have been hundreds of celebrity weddings this year, but let's face it – the brides we were most interested in were the two Kates. Although their big days were very different in style, Ms Moss and Ms Middleton both wowed us with their fashion-forward dresses and loose locks. But what about their make up?
Perhaps in a bid to show that she is 'one of us', the Duchess of Cambridge decided to do her wedding day make up herself. She used black eyeliner to define her eyes, filled in her eyebrows and applied blusher for a rosy glow.
Fashion's favourite princess, on the other hand, kept things a bit more natural. She placed herself in the skilled hands of an expert, and opted for a palette of soft browns. So, what does Ana Ospina, bridal make up specialist, make of these modern bridal looks?
'Kate Middleton did very well, considering she did her own make-up.
'The liner was a little too hard under her eyes, which gave her a bit of a 1990s look, ironically a little like Princess Diana.
'But her blush and lips were very bridal.'
Sorry, Duchess – looks like the new Mrs Hince wins on this one
Want pretty peepers, Kate-style, for your big day? Ana has some simple tips to help you create a wearable smoky eye.
Step 1: Define your brows first with a little shadow or pencil. I use Shu Uemura retractable eyebrow pencil in Seal Brown, Deep Blonde or Auburn brow powder duos from Laura Mercier.
Step 2: Apply primer to the lid for all-day make-up that will look fab in photos. My favourites are Urban Decay Eyeshadow Primer Potion or Laura Mercier Eye Basics in Wheat or Linen.
Step 3: Use a cream eyeshadow as your base then build up the colour on top. I use Shu Uemura Cream Eyeshadows in Taupe, Brown or Black depending on strength of the look - or try Eye Intensifier Pencils by Sue Devitt in Surat, Laos or Pointe Noire.
Step 4: Add black liner generously and blend liner up from lashline to leave intensity of colour at root of lashes for maximum impact. I layer eyeshadow over the liner with my Minky and Chocolate Browns from my Sculpt Beauty Eyeshadow Pallette, Kim Kardashian style, blending and layering until the depth of colour is right.
Step 5: Highlight browbone with a soft cream shadow blend down towards darker colours to soften look. Curl lashes and add a couple of coats of mascara. I recommend Dior Diorshow or Rimmel Glam'Eyes.
'A word of advice... do your eye make-up before your base, so it's easier to clean up any overspill', adds Ana. 'Complete the look with concealer, foundation and powder and then add blush and lip colours in soft pinks, peaches or neutral tones to ensure the look is all about the eyes.'
Are you a blushing bride who wants to take advantage of Ana's expertise? She can be found at the BECCA boutique in South Kensington.