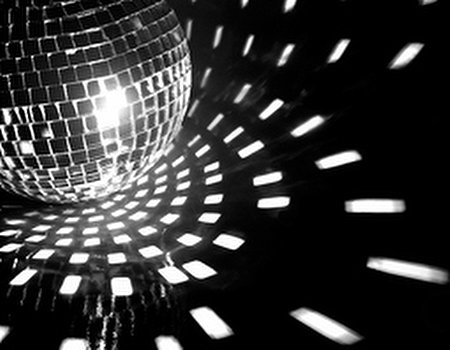 Every woman knows that if there's one wardrobe staple it's almost impossible to live without, it's the little black dress. Whether you're off to work drinks, a family gathering or a posh party, the LBD never fails to save the day – which is exactly why we'll be digging ours out this New Year's Eve.
Unfortunately, whilst our LBDs may still be looking as stunning as the day that we bought them, we can't disguise the fact that we've been helping ourselves to one too many mince pies since. Thankfully, Jon Denoris, top personal trainer and founder of fitness studio Club 51, knows just the exercises we need to do in order to get looking nice and svelte again. Phew!
Want to dazzle this NYE? All you have to do is choose your dress type, whether it's short, backless, strapless or bodycon, and read Jon's helpful exercise guide to get you looking party perfect. We've got to hand it to him, when it comes to getting into shape he certainly knows his stuff...
The short dress
Target area: Thighs
Ideal exercise: The belt squat
A great variation on an old favourite. Tie a weights/yoga belt or scarf around the thighs, just above the knees. With feet about shoulder width apart and toes turned out 30 degrees, slowly lower yourself into a squat (as if sitting). When your thighs are approximately 90 degrees to the ground, pause and then come back up – you should be constantly pressing out against the belt all the way down and up. This variation activates your gluteus muscles and other hip rotators (butt muscles) as well as the quads and hamstrings (front & back of thighs). Practise 3 sets of 20 reps for optimum results.
The backless dress
Target area: Top of the back
Ideal exercise: The reverse fly
This one is great for defining and shaping the upper back, exactly those areas exposed when wearing a backless dress. From standing, lean/hinge forward from the hips so that your upper body is at a 45 degree angle. Keep your back in a neutral (straight) position. Hold dumbbells in each hand, palms toward each other and arms extended in front of torso. Lift arms out to the sides to shoulder height. Return to starting point and repeat. If you don't have dumbbells to hand, improvise with water bottles or cans of beans.
The plunging neckline dress
Target area: Chest
Ideal exercise: T stand push ups
An old exercise with a great new twist! Great for the chest and also works the all important core. Start in the top position of a push up and lower yourself into a push up - however, on your way up, rotate the body to the right, extending the right arm up to point to the ceiling, eyes looking towards the wall (so you are in a 'T' position). You should basically be in a side plank position here, making sure your hips are up. Repeat on the other side, and perform 10 repetitions on each side. To make it easier, perform with hands on a bench rather than on the floor.
The sleeveless dress
Target area: Arms
Ideal exercise: Tricep dips
This one is perfect for toning the bingo wings or backs of the upper arms. Sit on the edge of a bench or step, with your hands on the edge of the bench, fingers facing forward and feet on the ground in front of you. Lift your butt off the bench and lower it to the floor by bending your arms at the elbows. Stay perpendicular to the ground, with your back straight. Lift up by straightening your arms. Go for 3 sets of 15 repetitions.
The strapless dress
Target area: Shoulders / décolletage
Ideal exercise: The triple 20
Ok, so I call this drill 'the triple 20'. Basically you need light dumbbells, or you can use water bottles or cans of beans to improvise. Stand in front of a mirror, act like a boxer and get in a stance, tight core, hands up at shoulder height. Now, perform 20 fast shadow boxing style punches up towards the ceiling. Without resting, now perform 20 out in front at chest height, then perform a 3rd set of 20 repetitions punching down towards the ground, bending from the waist and keeping the back straight. Do the triple 20 2-3 times.
The bodycon dress
Target area: Bum and tum
Ideal exercise: The travelling lunge
Pick a corridor, or use the garden, park etc. Starting with the left leg, lunge forward as far as you can (comfortably), so that the front knee is directly over the ankle. Slowly lower the back knee towards the floor, but do not touch. Step through with the right leg and repeat. This should be a smooth transition. Keep going until you have done 20 reps in total. Keep the upper body straight bracing the core (keeping it tight)and looking forwards.
Jon Denoris is a Masters level Strength and Conditioning Coach, and the owner of Club 51 www.clubfiftyone.co.uk He is also a Nike Master Trainer, and Fitness Ambassador for Kinetica Sports.Follow him on Twitter: @jondenoris
Want more ideas on how to look the part in your favourite dress? Early this year we blogged another set of little black dress workouts from Justin Way of Pure Gym Edinburgh – worth a read if you're on a slimming mission. Don't forget you can also check out our great value fitness deals to help you kickstart that New Year's exercise regime.