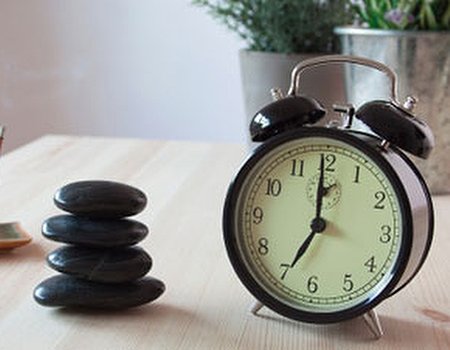 Although it means that the nights will be shorter and the days will be longer (hooray!), it still doesn't quite seem fair that we're all going to lose an hour's sleep on Sunday. After all, every little helps – and after a long week at work, we reckon an hour's not too much to ask…
Don't do well without some shut-eye? If you're worried about making it through the clock change unscathed, it could be worth your while to do a bit of preparation. Trust us - follow these tips and you'll be feeling nice and smug whilst everyone else is bleary-eyed.
Stick to a routine
Keeping a regular sleep schedule is essential, so going to bed at the same time each day will help you feel more refreshed. Disrupting your routine can lead to sleep problems, as your body clock has to readjust itself each time.
Don't watch TV before bed
Many people use the television to fall asleep or to relax at the end of the day, but television can cause a surge in adrenaline and make it harder for the brain to switch off. Fast-moving images and continuous flickering light generated from the screen can over-stimulate the mind, so avoid watching television too close to bedtime.
Use an acupressure mat to relax the body
Taking time out to relax is essential for health and wellbeing, but stress and anxiety can make it hard to unwind after a long day's work. The practice of acupressure can significantly help to restore sleeping patterns by increasing circulation and reducing muscle tension. Try using a Yantra Mat (www.theyantramat.co.uk), a portable foam acupressure mat, covered in spiked 'flowers' for 20 minutes before you go to bed. The spikes help to stimulate the 'acupoints' on the body and promote the release of the body's natural 'painkilling' hormones - endorphins and oxytocin.
Avoid alcohol and caffeine
Whilst you might think a glass of wine helps you relax and get off to sleep, alcohol robs you of the deep sleep experienced in the REM stage of the sleep cycle and keeps you in the lighter early stages of sleep. This is why you wake up feeling so unrefreshed after a night on the town. Avoiding drinks that contain caffeine, such as coffee and Coca-Cola, is also essential, as they act as stimulants. Some foods like chocolate and even pain killers also contain caffeine, so don't get caught out.
Control the environment in your bedroom
When it's time to sleep, make sure that your bedroom is dark. Heavy curtains or shades can help block light from windows, or you can try an eye mask to cover your eyes. It's also important to maintain the temperature of the room, as most people sleep best in a slightly cool environment. Being too hot or too cold can interfere with the quality of your sleep.
Drink a herbal tea before bed
Drinking a warm cup of herbal tea, such as camomile, can help prepare your body for a restful night's sleep. Most herbal teas are also caffeine free and can help you achieve a state of tranquillity for a better night's rest.
Take a deep breath
Relaxation is beneficial for everyone, but especially for those struggling with sleep. Practising breathing techniques before bed is a great way to wind down, calm the mind, and prepare for rest. Try closing your eyes and taking deep and slow breaths.
Exercise
Try to exercise for 20 to 30 minutes each day, as this can help you get to sleep - however, avoid any strenuous exercise before bedtime, as this actually interferes with sleep (exercising too late in the day stimulates the body, raising its temperature). For maximum sleep benefits, try to exercise about five to six hours before bed.
Stop smoking
Smokers tend to sleep very lightly and often wake up early in the morning, due to nicotine withdrawal. As Nicotine is a stimulant, try to avoid smoking near your bedtime.
Treat yourself
What better way to unwind than to indulge yourself a little. Having a specific relaxing routine as part of your bedtime ritual can make it easier to fall asleep. Do whatever suits you best, whether that's a warm bath, reading or listening to a meditation CD. If you train your mind to associate certain restful activities with sleep, you will nod off much more easily.
Don't eat too late
Your daytime eating and exercise habits play a role in how well you sleep. Try to make dinnertime earlier in the evening, and avoid heavy, rich foods for three hours before going to bed. Food with high fat and sugar content may be also be difficult for your stomach to digest and can keep you awake.
Looking for more advice on how to get enough sleep? If pain's getting between you and a bit of kip, make sure to read our post on how to sleep comfortably. For other sleep-related difficulties, try finding a therapist near you who specializes in sleep treatments.