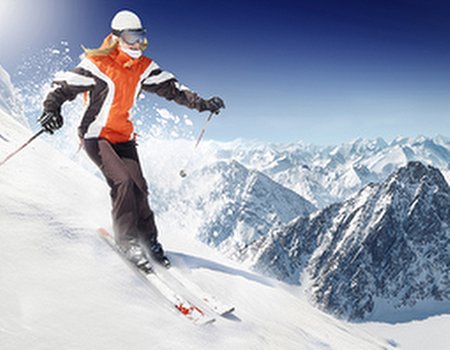 Dreaming of a white Christmas? It's the perfect time of year for a sporting holiday, with plenty of people hitting the pistes for some picturesque skiing or snowboarding action. We've got to admit, we're more than a little bit jealous...
However, whilst flying down a slope with the wind in your hair is undeniably fun, it's important to remember that there are also risks involved. From muscle strain to eye damage, there are certain piste perils that it's definitely best to avoid.
Concerned about getting injured? Follow our safety advice and you'll be able to ensure that your winter holiday doesn't become a Christmas nightmare...
Warm up
As with any sport, it's important to make sure that you've warmed up thoroughly before you begin. Ideally, you should have been exercising regularly in the months leading up to your ski holiday, ensuring that your muscles are prepared for the experience. It's also important to stretch properly before you go out for a day on the slopes, as this will reduce your likelihood of developing muscle strain.
Wear a helmet
It's not obligatory to wear a helmet when skiing, but it's certainly sensible. After all, why risk head injury when you can easily do something to prevent it? Just make sure you invest in a proper ski helmet that is compatible with your goggles – we're afraid that a cycling helmet just won't cut the mustard.
Protect your eyes
According to Trevor Rowley, owner of Viewpoint Opticians in York, 'Many still succumb to snowblindness, a condition caused by failing to use adequately protective eyewear in high ultraviolet (UV) light conditions like skiing. This can be prevented by wearing appropriate sunglasses that filter UVA and UVB light and have side coverage of the eyes, when you're off-piste or even whilst enjoying that outdoor lunch.' Wise words, Trevor...
Never ski by yourself
Always make sure you ski with a friend or, preferably, in a group. This will allow you to watch out for one another and, in the event of an accident, to arrange getting help.
Follow the rules
In the same way that the Highway Code helps to keep road users safe, there are plenty of skiing rules and warning signs in place to avoid unnecessary injury on the slopes. Always observe any instructions you are given, stick to designated paths and stay aware of other skiers to avoid dangerous collisions.
Taken all that on board? Got your passport? Sounds like you're ready to go...
If you've not got a skiing holiday booked this year but are interested in taking up the sport, why not browse our dedicated skiing page. Who knows, next Christmas might be a white one after all.