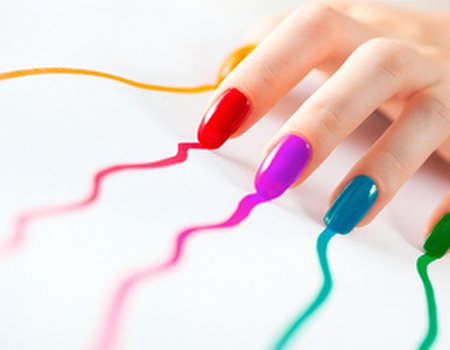 Just as we think nail polish manufacturers must have finally run out of clever ideas for tarting up our talons, they come up with another hit product. Last year, we were all obsessing about crackle polish, the latest nail trend to hit the UK. Now, we're all clamouring to channel Magneto from the X-Men and experiment with the new magnetic nail polishes that are arriving on the market. When it comes to jazzing up your fingertips, it looks like there's no limit to the possibilities...
Want to try something a bit different to your everyday style, but not sure which product is right for you? The Wahanda ladies are on hand to give you the lowdown on our favourite looks. Practise a little and we think you'll really nail it...
Magnetic polish
Confused by the concept of magnetic nail polish? So were we to start with, but now we're strangely attracted to it (sorry). Just paint your nails with one of these polishes (try LCN for a range of metallic colours), hold the specially designed magnet over your fingertip and watch a pattern appear. Magic!
Crackle polish
It may have been around for a while now, but we still love crackle polish. Choose a crackle colour that contrasts well with your favourite base colour – we love black on gold for a stylish evening look. Paint on, and watch the crackles appear! Barry M rule the roost for crackles that won't crack your piggy bank, or try Nails Inc for Special Effects polish in fabulous shocking pink.
Nail wraps
Our hairdryers are our new secret weapon when it comes to terrific talons. Nail wraps are easy to apply (just peel off, apply heat and press on) and allow you to try out all sorts of designs that you previously wouldn't have been able to achieve at home. We're in love with the shiny gold nail wraps from Nail Rock and Rebel Nails – or why not try leopard or zebra print to bring out the animal in you?
Think nail art is best left to the pros? If you haven't got the steadiest of hands, you may want to find yourself a nail technician. From fancy designs to a slick French manicure or long lasting extensions, they can help you to get fabulous fingertips in no time. Just make sure that someone else is around to do the washing up...