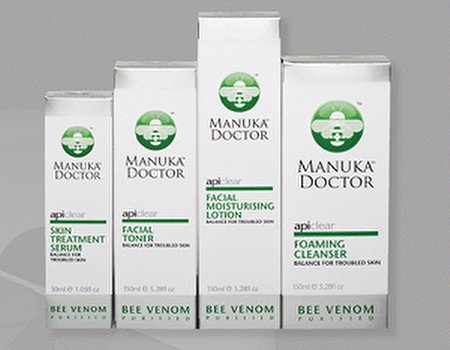 Want to be Queen Bee this Christmas? Concentrated bee venom may sound like an odd thing to put on your face, but this anti-ageing wonder is a firm favourite with Royals Kate and Camilla. We've all copied Kate's wardrobe – sounds like it's time to steal her skincare secrets, too...
It's not just the Duchesses who are going barmy for bees – Victoria Beckham, Kylie Minogue, Emilia Fox and Michelle Pfeiffer are all said to be fans of the products dubbed 'bee sting botox'. Luckily, with Holland & Barrett's new Manuka Doctor beauty range starting from £16.99, you don't need a six figure bank balance to keep up with this trend. Phew!
Products containing bee venom have been in the pipeline for a number of years, with the Korean government investing £100,000s in research over the past decade. As well as being applied to serious health conditions such as arthritis and multiple sclerosis, these super stings have been found to have an impressive effect on the skin's appearance. The good news? No bees are harmed in the harvesting of the venom - so you can enjoy younger looking skin, guilt-free.
Dr Han, of the National Academy of Agricultural Science, South Korea, says: 'Finally my 12 years of research and science into natural bee venom is being transferred into a product range. This will help many people with the benefits of proven cell regenerating, anti-ageing and antibacterial properties from purified bee venom.'
As well as containing 10,000 bee stings per pot, the Manuka Doctor beauty products contain a whole host of natural ingredients, from Manuka honey and shea butter to royal jelly, rosehip and propolis. Choose from a variety of different treats such as the Rejuvenating Face Mask, Skin Treatment Serum or Cleanser, Toner and Moisturiser to get you looking bee-eautiful in no time at all...
The Wahanda team were lucky enough to preview some of these exciting products and give them a go – and we've got to admit, we're hooked. Well, if Kate's skin can bag her a prince, we're definitely going to look after ours...
Want to try the Manuka Doctor range for yourself? Visit your nearest Holland & Barrett store or shop online at www.hollandandbarrett.com. Alternatively, if the idea of venom is just a bit too much for you, why not visit our honey massage and honey facial pages. Pampering has never been so sweet...