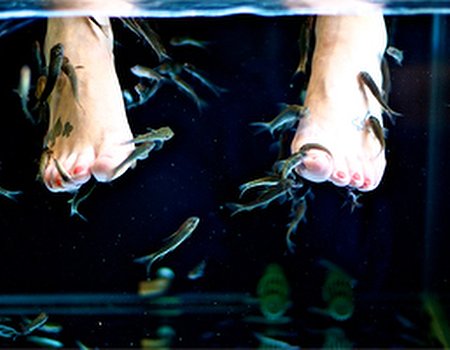 Been considering a trip to the fish therapists to sort out your tired toes, but been put off by the thought of nasties lurking in the water? There's no need to worry – the Health Protection Agency (HPA) has announced the risk of infection to be 'very low'. We think that's worth celebrating with a bit of a splash...
Garra rufa fish pedicures have proved hugely popular recently, with customers flocking to have their dead skin nibbled away by shoals of teeny tiny fish. However, some people raised concerns about the likelihood of developing a foot infection after contact with these miniature therapists – causing the HPA to launch an investigation. We can't help wondering if they interrogated the fish...
For those who swear by their aquatic amigos, the results of the investigation are pretty positive. Although the water in garra rufa fish tanks does contain a number of different microorganisms, the HPA believes that there is very little risk of contracting an infection - provided specific guidelines are adhered to. Spas are encouraged to practice strict hygiene, whilst those with weak immune systems, open wounds or skin conditions are advised to forgo the experience. Looks like you'll have to stick to sushi to get that fishy fix...
Dr Hilary Kirkbride, consultant epidemiologist at the HPA, says: 'It's important for salons to ensure the client has no underlying health conditions that could put them at risk, and that a thorough foot examination is performed, to make sure there are no cuts, grazes or existing skin conditions that could spread infection.
'Anyone considering a fish pedicure can help reduce the risk of infection – both to themselves and others – by taking simple precautions. Allowing any cuts or infections you may have on your feet or legs to heal before having the treatment, and waiting at least 24 hours after having a leg wax or shaving, will minimise your chances of catching anything.'
As with many things in life, it looks like enjoying a safe fish pedicure is just a matter of good old common sense. Follow the HPA's advice and you'll be fine – oh, and it goes without saying that this is not a treatment to try at home, however helpful you think your goldfish are.
Fancy finding out exactly why fish pedicures are so popular? Browse our deals and offers on garra rufa treatments and get super smooth soles in no time.