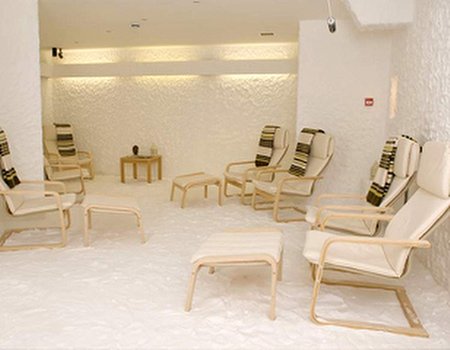 Pass the salt. Sufferers of COPD (chronic obstructive pulmonary disease) will be pleased to learn that relief from their distressing condition is now available – in the form of halotherapy. A drug-free alternative to hospital treatment, the Salt Cave offers COPD sufferers the chance to live a more normal life – something that they may not previously have thought was possible.
With 842,100 sufferers in England alone, COPD (which is often related to smoking) is one of the biggest causes of emergency hospital admissions. The disease is caused by a co-currence of chronic bronchitis and emphysema, and unfortunately cannot be cured. Over time the condition worsens, leaving the sufferer with severely restricted airways and difficulty in breathing - dramatically reducing quality of life.
So how can salt help? It's no good reaching for the seasoning in your kitchen cupboard – to benefit from halotherapy, you need to go to a dedicated venue such as the Salt Cave. The walls and floors of the cave are lined with salt microparticles, which cleanse the respiratory system when inhaled. Regular visits to the Salt Cave can not only help you to breathe more easily – the calming atmosphere will also leave you feeling nice and relaxed. You'll never look at your salt cellar in the same way again...
Clara Brown, a COPD sufferer, says of her experience of halotherapy: 'I know I will never get completely better, but the salt cave lets me live again and manage my illness in a way that I can enjoy my life. When I walk out of the Salt Cave I feel high on life. I call it my heaven on earth, and I recommend it to everyone I know. It has helped me so much, that it must be able to do the same for other COPD sufferers. It really has transformed my life.'
Sofia Benke, co-founder of the Salt Cave, says that she regularly encounters COPD sufferers who find halotherapy beneficial. She says: 'Salt treatment is an excellent treatment for people with COPD, as it clears the airways and allows them to breathe normally again. It greatly reduces the chances of infection, which in turn greatly reduces the need for hospital treatment.'
Fancy seeing what salt can do for you (other than seasoning your fish and chips?). Pop over to the Salt Cave and show your lungs some love.