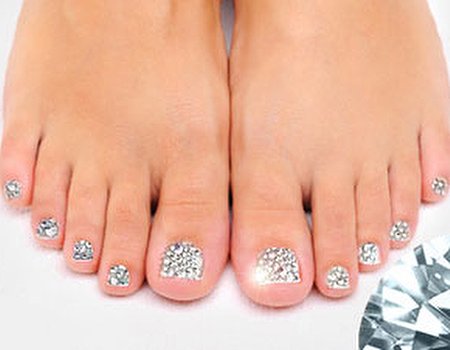 From eye-catching jewellery to statement Swarovski-encrusted Louboutins, there's no denying that the fashion world has a long-lasting love affair with crystals. And it's not just fashionistas who know how to shine - thanks to the latest in sparkling nail art, beauty fans can now get in on the glamour, too. Looks like a touch of Beverly Hills has arrived in good old Blighty...
Forget the old saying 'less is more' – at Wahanda, we enjoy a little bit of bling every now and again. It's no surprise, then, that we're in love with Savannah Glasgow's new treatment – the Swarovski Crystal Pedicure. Involving hundreds of tiny Swarovski crystals, each individually attached to the nail, these shimmering toes are not for the style shy – treat yourself to a full set and you're sure to be the talk of the room wherever you go.
Fancy trying it out for yourself? With celebrities such as Jennifer Lopez, Lisa Snowdon and Holly Willoughby all fans of this lavish look, you'd be forgiven for thinking that a crystal pedicure might require you to empty your piggy bank. Happily for mani/pedi magpies, the Swarovski Crystal Toes are a real steal - Savannah's two Glasgow salons are offering a special introductory price of just £49. With £20 off the normal price, we reckon it would be rude not to give them a go...
To find out more about the services offered at Savannah, visit our dedicated Savannah Beauty Centres page. Want a bold look but not sure sparkles are your thing? Why not try a snakeskin manicure out for size instead – it's sure to make a ssstatement.