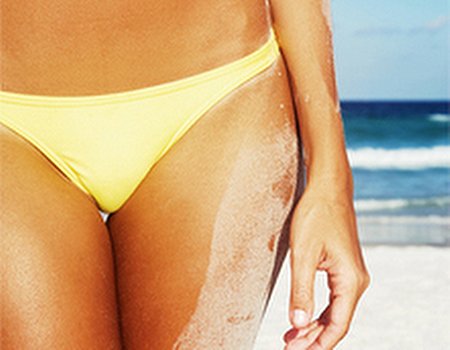 It's been over a month since the Royal Wedding and we're still all talking about Britain's most famous bottom. Only last week we shared some tips with you on how to exercise your way to a bum as enviable as Pippa Middleton's, and now we've got the lowdown on some great treatments from The Private Clinic to help you get a derriere you can be proud of. These treatments are just the quick fix you need to get you beach ready in time for your holidays - especially if that exercise agenda hasn't quite gone to plan.
Here's an explanation from The Private Clinic of some of the treatments on offer:
Problem: Cellulite
The Private Clinic offer two fantastic treatments to flight cellulite, ideal before you get into that bikini or a slinky summer dress.
VelaShape is the first and only cellulite removal technology that combines radio frequency, infra-red, vacuum and mechanical massage to tackle the appearance of cellulite. The treatment boosts circulation and lymphatic drainage and safely delivers heat into fatty tissue to target loose or dimpled skin and firm problem areas. It takes 1.5hrs to perform and a course of 6 treatments is recommended.
Mesotherapy is a medical technique which helps improve circulation and treat cellulite. It's also fantastic for fluid retention, lymphatic drainage, localised fat reduction and skin rejuvenation. A specially prepared mixture of vitamins, homeopathic ingredients, amino acids and medications are injected into the problem area. This stimulates the fat cells and causes them to break away from the network of connective tissues in the skin. The excess deposits of fat are then dissolved and excreted through the bloodstream by the kidneys and bowel. It takes 30-45 minutes to perform and a course if 6 treatments is recommended
With both treatments you can expect to see a marked improvement in the appearance of cellulite. Your skin will look and feel firmer and smoother, and blood flow and lymphatic drainage will be improved in the treated area.
Problem: Lack of shape
If your bottom is lacking volume and lift then Macrolane may be for you. This treatment involves a simple injection that augments the buttocks to give volume and lift. A thick filler made from hyaluronic acid, a synthetic substance that is used in facial fillers is used. This will improve the shape of the buttocks and lasts 12-18 months.
Problem: Fatty problem areas
Some areas of the body are predisposed to store fat. If you have certain 'problem' areas or stubborn bulges that you just can't shift no matter how much you exercise, Vaser Lipo-Contouring could be the answer.
Vaser Lipo-Contouring is the very latest fat removal technology. It is a minimally invasive procedure performed under local anesthetic. It is less invasive than traditional liposuction and because it differentiates between fat and important tissues such as nerves, blood vessels and connective tissues, the risk of damage to these tissues is practically eliminated. There is no hospital stay - Vaser is a walk-in walk-out procedure with minimum downtime.
Why not learn more about The Private Clinic and the treatments on offer or check out our beach body page for more deals and ideas to help you shape up…