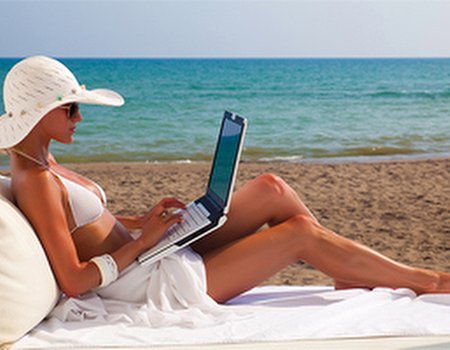 We don't know about you, but we're all planning to enjoy some lovely long lie-ins over the Bank Holiday weekend. The trusty Wahanda community, on the other hand, never sleeps – our community page is always buzzing with reviews, articles, questions and advice. This Bank Holiday, why not join in the fun? There are lots of ways for you to get involved, and they're all nice and simple – just log on to your computer, load up the site and start sharing the love.
Write a review
Been somewhere great recently? If you've had a marvellous massage, a perfect pedicure or a terrific tan, feel free to share your experience with other Wahanda users. Writing a review is easy – just search for the gym, salon or spa that you want to write about, and get ready to unleash your inner Shakespeare.
Got writer's block? We're sure that you'll be motivated by the knowledge that your review will help raise money for those affected by the recent UK riots. For every review written in August, we will donate £1 to Riot Rebuild – a charity helping to reconstruct damaged buildings. Sound like a pretty good reason to start putting (figurative) pen to paper? Hurry, there's not long left!
Catch up on our blogs
At Wahanda, we've got a beady eye on everything that's going on in the world of health, beauty and fitness. Our team of professional writers regularly read up on the latest research, put their bodies through the mill to test new forms of exercise and undergo various beauty treatments (it's hard not to feel sorry for them, isn't it)? We are also lucky enough to be able to share with you thoughts and advice from our favourite practitioners and therapists. Make sure you're sitting comfortably – once you've started reading, you'll be hooked...
Not sure where to begin? How about brushing up on your vintage beauty, learning how you could exercise your way to a longer life or finding out how colonic irrigation really works.
We've also got some wonderful recipes and food tips on our Happy Food blog – discover why we're crazy about egg and soldiers, or cook up a batch of cheeky chilli chocolate sauce for a spot of Bank Holiday indulgence.
Ask a question
What are friends for if you can't ask them for some help? If there's something that you're dying to know, don't keep it to yourself – let the Wahanda community know and you'll be sure to have lots of answers in no time.
Get tweeting
We love to hear what you've been up to (not in a creepy way, honest). Been to a wonderful spa recently? Tried out one of our recipe ideas? Let us know via Twitter. We promise we won't bite!
Treat yourself
If all this reviewing, reading, asking and tweeting about health and beauty has got you itching to be pampered, you may want to have a browse of our brilliant deals. Take advantage of one of our great value spotlight offers, or choose a treatment that interests you and see what we've got on offer. From Ayurveda to Zeltiq, we've got an experience to suit everyone. Go on - be bold and try something new!