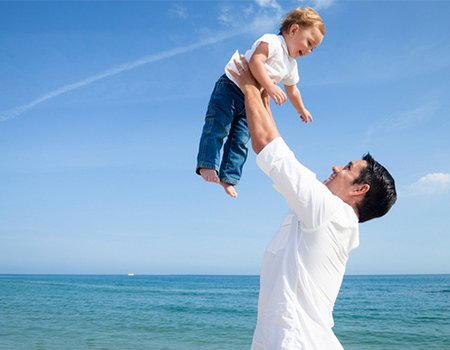 New dads: are you looking to give your biceps and quads a good workout, but just don't seem to have the time? You may not realise it, but you are in fact in possession of a fantastic exercise aid – your baby.
American dad Joshua Levitt, whose book Baby Barbells is due to be published in the UK tomorrow, has come up with a variety of different exercises designed to help fathers get in shape whilst spending precious time with their new child. These simple exercises are perfect for fathers leading busy lives, who might otherwise struggle to find the time to keep fit and bond with their baby.
Alarmed by the thought of using your baby as a dumbbell? All the exercises in Levitt's book are gentle extensions of natural movements used during bonding and play. Examples include performing squats whilst you cradle the baby in your arms, and lifting the baby up and down whilst you lie on your back – an activity that will have many young children chuckling in delight.
Don't have a baby? With a nine month waiting list, a baby may not be the immediate answer to your fitness needs. Why not try traditional strength training or some high-paced circuit training for a great workout without any sleepless nights.