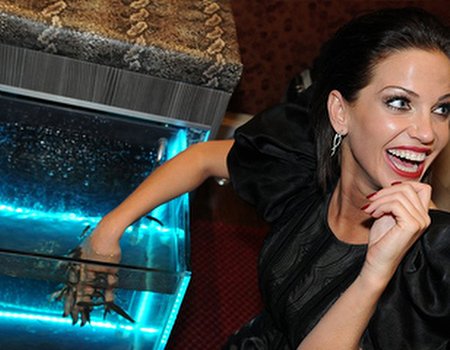 There's something fishy going on in Dublin. Luxurious fish spa Anesis has opened a new branch in Dublin's Harvey Nichols store, offering customers manicures and pedicures with a difference. All you have to do is sit back, relax, and let lots of tiny fish nibble your dry skin away. Clever, eh? Makes you look at your goldfish in a different light...
Unfortunately, putting your feet in the goldfish bowl just won't have the same effect. The fish at Anesis are special Garra Rufa fish, native to countries such as Turkey, Syria and Iran. In their natural habitat, these helpful little fish nibble away at the dead scales of bigger fish to keep them nice and clean – and it seems they are willing to help us humans, too. During a treatment, the fish will gently remove the dry skin from your hands or feet, as well as releasing an enzyme called diathanol that will leave your skin feeling super soft and smooth. It might sound a bit strange, but we think that once you've tried it you'll never look back...
With its relaxed atmosphere and stylish interior, the London branch of Anesis is popular with celebrities such as Naomi Campbell, Gwyneth Paltrow and Lindsay Lohan, and the Dublin branch promises to be just as big a hit. Want to feel like a star? Get an idea of what a fish pedicure is like with a ten minute taster, or indulge in a Deluxe Piscean Pedicure for fabulously fresh feet.
Worried the treatment might be uncomfortable? There's no need to be anxious – fish pedicures and manicures are pain free, and the sensation you will a feel is a bit like that of a Jacuzzi. Relaxation and exfoliation in one? We think the Wahanda goldfish need to watch out – we're tempted to replace them with Garra Rufas...
Intrigued by these clever fish? Book yourself in at one of the Anesis spas to see what all the fuss is about. Can't reach Anesis easily? We've got plenty of other deals and offers on fish pedicures and fish manicures – so you don't have to miss out.