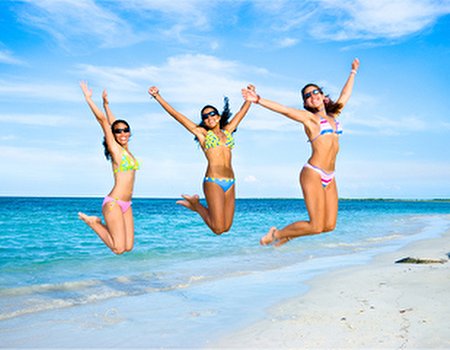 We've spent the winter covering up, strategically hiding our wobbly bits under baggy jumpers and treating ourselves to indulgent snacks in the knowledge that no one can see the results. But now it's that terrifying time of year again – summer. We're starting to wish we'd kept that bikini in mind last time we reached for the Pringles...
Happily, diet and exercise motivation is on hand in the form of handy fitness apps from GetJar.com. Everyone wants a fitness buddy, but schedules mean that your best mate won't always be on hand to work out with you. Don't worry – the following apps will turn your phone into a great fitness friend (and you won't have to put up with it whinging, either).
SuperFood
Learn about the superstars of the food world – the foods which are great for your hair, nails, eyes and skin. Loading up on these at lunch will keep you feeling healthy and looking fresh – and most of them are pretty tasty too.
SportyPal Pro
Great for anyone who likes to be able to monitor their progress. This app takes stats from your exercise session and converts them in to charts and graphs, allowing you to keep track of your performance over time.
SmartYoga Pro
Yoga is great for keeping the body and mind in top condition and it can also help you to tone up in time for your holiday. This app provides a step by step guide to different yoga postures, helping you to stretch those muscles and banish the bulges. The exercises will leave you nice and relaxed too – even that where-did-I-put-my-passport panic won't be able to faze you.
Let's Lose Weight Naturally
There are plenty of cosmetic procedures out there that can help you to shed those excess pounds, but natural weight loss is often a safer and cheaper option. This app provides lots of great weight loss tips to help you on your way to the beach body you've been dreaming of.
Kcal
Calorie counting can be an effective way to lose weight, and this handy app allows you to count calories on the move. Just input what you've had to eat and drink during the day, and the app will tell you how much of your daily allowance you've got left for dinner. Probably best not to eat a doughnut for breakfast, then...
You can find more tips on how to shape up for summer along with some great deals and offers on our beach body page.