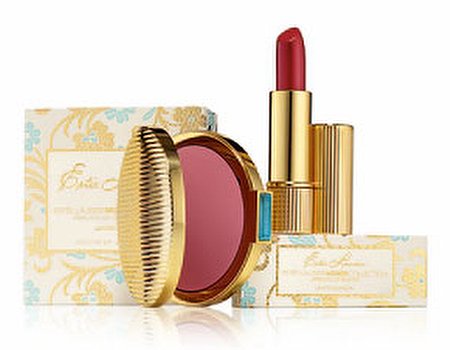 All aboard the time machine...This month, beauty lovers are set to take a trip back to the '60s, thanks to Estée Lauder's new Mad Men inspired makeup range. Consisting of a vibrant cherry-coloured lipstick and fabulously grown up crème rouge compact, the collection is a must-have for Mad Men fans and vintage fashionistas alike. Move over January Jones and Christina Hendricks – you've got some serious competition...
Not only have the beauty experts over at Estée Lauder come up with a look that perfectly expresses the glamour of the 1960s, but they've also added a touch of welcome authenticity. The products have been made in accordance with the company's old manufacturing practices, and packaged with 'handbag elegance' in mind - so that each piece is eye-candy in its own right. We've got to admit, that compact looks a bit too good to use...
Accompanying the launch of the range is a stunning ad campaign, featuring Constance Jablonski with cherry lips, bold brows and soft waves. It's a fabulously feminine look that we think will be perfect teamed with spring's floral dresses – and we can't wait to give it a go.
The catch? Sorry, time travellers - the collection is launching Stateside first, which means that us British beauty lovers will have to wait a while before we can get our mitts on it. Still, we can always pass the time by catching up on our favourite Mad Men episodes and painting our nails in a seductive shade of red.
Can't wait to try out the vintage look for yourself? Browse our makeup treatments page for talented makeup artists near you.