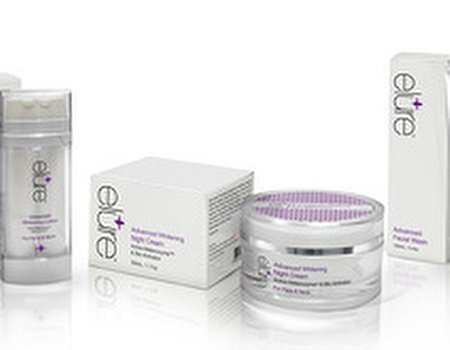 Looking to lighten up a bit? We've got some good news for those suffering from hyperpigmentation – the elure Advanced Skin Lightening range can now be purchased from Urban Retreat, Harrods. Safe yet effective, the products can be used individually or together to help create a more even, radiant skin tone – with results visible in as little as 7 days. We think that's pretty impressive…
Unlike other skin lighteners, elure is careful not to interrupt the natural melanin production process. Harnessing the beneficial properties of the bio-active substance Melanozyme, the products break down melanin on the skin's surface – resulting in a reduction of dark-coloured pigment for fast and safe results. Free from hydroquinone (an ingredient present in many skin lighteners that can cause side effects) elure also has the benefit of requiring no downtime after treatment – good news if you're a busy bee.
Interested in trying out the elure Advanced Skin Lightening System? The set consists of a moisturizing Skin Lightening Lotion for the day, a hydrating Skin Lightening Night Cream and a balancing facial wash (all available to purchase separately).
Victoria Battersby, Manager at Urban Retreat, says: 'I am delighted to share my excitement for the arrival of elure into the Urban Retreat Medi Spa at Harrods. It is wonderful to finally embrace an advanced skin lightening product that, unlike many others on the market, does not contain hydroquinone yet delivers fantastic results on both pigmentation and the general improvement of skin tone. Our doctors and clients are delighted that we can now offer a frequently requested resolution to pigmentation with no downtime.'
No prescription is needed in order to purchase the elure products – but they are only available from approved medi spas and cosmetic surgery clinics. Why not head to Urban Retreat at Harrods for an in depth skin consultation and advice on the range? You could get that gorgeous glow much sooner than you thought…