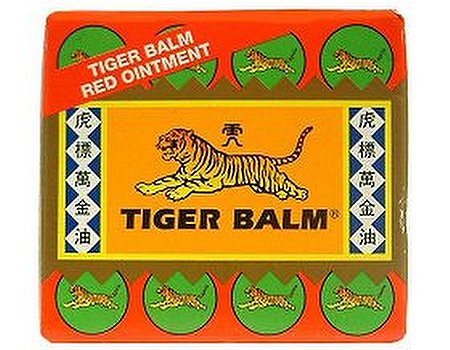 Off on your travels? If you add one new thing to your luggage this holiday, make it a pot of Tiger Balm. Although these 19g pots may look diminutive, they're surprisingly potent – there's nothing timid about this product...
Manufactured in Singapore, Tiger Balm is marketed as a heat treatment and is designed to ease muscular aches – good news if the pain is making you roar. But why take it on holiday if you're fighting fit? This nifty balm can also be used in a variety of ways that make it a real suitcase staple...
Made entirely from herbal ingredients, the balm is available in two varieties. Tiger Balm White is a menthol-based rub that can help soothe headaches, ease nasal congestion and calm insect bites. Tiger Balm Red is a cinnamon-scented warming balm, great for easing muscular aches and stomach pain, as well as warding off any pesky insects that fancy a nibble. We reckon that once you've tried it, you'll never go abroad without it again...
Panic not, animal lovers – although the balm proudly displays a tiger on its packaging, it doesn't contain any animal parts or products. Phew!
Want to ease those aching muscles? You can purchase Tiger Balm White and Red from Boots. Or why not try one our deals and offers on heat treatments for some much needed relief.