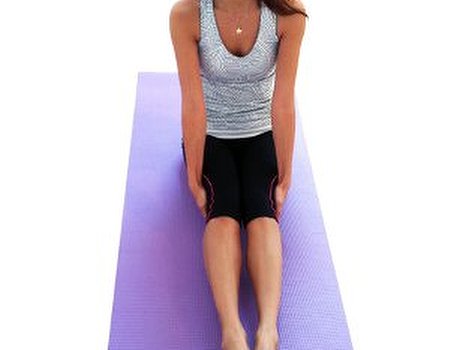 Pain got your back up? At the beginning of November, we wrote about a study in which it was discovered that yoga can be even more beneficial for back pain than acupuncture or cognitive behaviour therapy. We were therefore delighted to be able to ask expert Dr Jasmine Mejares some questions on the topic.
Chiropractor turned yogi, Dr Mejares set up her school, Yoga Square, to pass on her knowledge of yoga to others – enabling them to release tension in both body and mind. Having spent years studying neuroscience, chiropractic medicine and yoga, Dr Mejares certainly knows a thing or two when it comes to the human body. Here's what she had to say about yoga and chronic pain:
Why is Yoga helpful to chronic sufferers?
Yoga is excellent for those who suffer from chronic conditions. I can list several research articles and citations on how movement is best for rehabilitation and the sense of regaining normality. First of all, as a chiropractor, a general statement at the heart of our profession is, 'Movement is life'. As long as we are moving and using our body without strain and hurt, then we are nourishing our spine, muscles, mind and all that is encompassed.
Additionally, yoga helps build confidence, especially in those who have chronically been in pain and haven't been able to do the things they're used to and have been wanting to.
What is chiro-yoga?
I happen to be two things: a chiropractor and a yoga instructor. Being both, I can't help but want to incorporate all the good that comes from both sides. As a chiropractor I want to keep the body healthy and moving and do all that can be done to encourage a healthy spine. As a yogi I can't help but want to bring the movement of the vinyasa flow and the asanas to individuals so that they reach peace and health in themselves.
At Yoga Square, for the warm up I bring in chiropractic exercises and moves that are known to help improve posture and the spine. In the school my students will learn how to check each other's posture so that special posture based exercises can be given and applied. The middle of my classes are purely yoga moves – of course taking into account teaching and contraindications that I've learned in my chiropractic background. Lastly, at the end for the cooling down of the yoga routine I incorporate something similar to spinal blocks to help retain the curves we need in our body.
Why did you decide to dedicate yourself to yoga?
I've come a long way in my yoga journey. I started doing it simply as a stretching routine for my running back when I was a teenager. Later, yoga became more to me: a way to help others, a way to help me look into myself and an awakening. I love hearing about the yoga journey others experience and often am amazed and glad that they find it eye opening and life changing. That's why I wanted to start up this school, Yoga Square. To help others benefit from my own positive experiences.
Which moves are best for those looking to ease back pain?
Back pain is so broad and wide ranging. One person's symptoms can appear differently than another's, and the root of the problem differs from case to case. I always keep it general for back pain if I don't examine them: move around in a different position every 20 minutes or so, use a lumbar support to ease the pain, and never carry or lift anything more than 10% of your weight! Still, if I would have to list some moves that are relatively food proof then I would include everything in my warm – up: making arm flapping movements, restoring the curve of your neck, triangle pose, warrior pose and a modified runner pose.
Are there any moves those suffering chronically should avoid?
Regardless of whether one is in chronic pain, I always tell people to not be in a position that is painful. One should never feel sharp pain, or numbing or tingling when practising. Additionally, two other points include: always practise yoga when your body is warm and always bend and twist ergonomically correctly!
Generally speaking, there are no particular moves those in chronic pain should avoid. My suggestion is to move down to a more comfortable, modified position should any pain or discomfort be felt.
Do you have any advice for beginners?
Have fun! Go in with no expectations and a positive open mind and rewards will be had.
What to give yoga a go and see if it could help with your pain or stress? Visit www.yogasquare.co.uk for details of classes in Richmond, or browse our yoga page for practitioners nationwide.