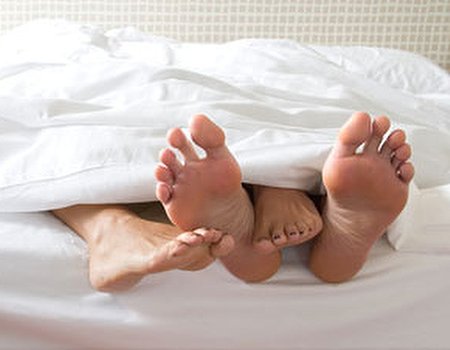 Did you know that March is National Bed Month? If you ask us, it's the perfect excuse for a lie-in...
Of course, for some people, the thought of having a lie-in isn't nearly as appealing as it ought to be. While many of us relish the opportunity to hit the Snooze button on our alarms, those who suffer from back or neck pain as the result of an uncomfortable mattress or bad sleeping position are much less likely to indulge. Luckily, Tim Hutchful of the British Chiropractic Association (BCA) is on hand to offer some simple yet effective advice on how to make the most of a good night's sleep.
Tim says: 'If you suspect that your mattress or sleeping style is causing you back pain or discomfort, it is important to take immediate action. A common mistake that people make is thinking the firmer the bed the better - this is not always true.'
So what action can we take? Follow the BCA's advice below and you dream of a proper lie-in could just become reality. Now all you need is someone to make you breakfast in bed...
Less stress
Say no to stress. Try to adopt a sleeping position which creates less physical stress on the back - lying on your back or side is likely to be best.
Get moving
Avoid being in any one position for too long. The longer you stay in one position the more this will 'load joints'.
Drink plenty
Keep well hydrated (dehydration can cause muscle ache).
Softly does it
If you have a bed that is too hard, try a mattress topper or overlay – this will help to soften it, making it more comfy.
Toughen up
If your bed is too soft, try a sheet of plywood under the mattress; the mattress will still be soft, but it may feel more supported. If your mattress is two-sided, turn it regularly - this will increase the life of the mattress and ensure you get the best support from it.
Not so fast...
Don't leap out of bed first thing in the morning - take a minute to wake up and try some gentle stretches.
Give your back a chance
Once up, avoid bending or doing anything sudden or strenuous until your back 'wakes up'.
Time for takeaway
If away from your own bed, take your own pillow with you. Your neck is used to your pillow, and won't have to adjust as much.
Some great advice – we'll definitely be taking it on board in order to prepare for a well-deserved rest this weekend. Now, about that breakfast...
Fed up with your back and neck pain getting in the way of everyday life? For more advice, visit the BCA's website (www.chiropractic-uk.co.uk/) or browse our chiropractic page to find an expert in your local area.