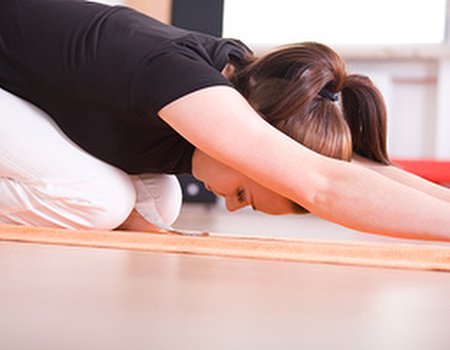 Put your back into it. Pioneering Pilates group Body Control Pilates is launching a new initiative designed to help prevent and manage lower back pain. Using specially tailored exercises, Back4Good® classes will focus on keeping the spine strong and flexible, as well as on giving individual assistance to those suffering from chronic pain. Sounds like it's time to start unrolling that mat...
With over 80% of Brits experiencing lower back pain at some point during their lifetime, it's no surprise that the Back4Good® initiative has met with great support. Receiving endorsement from UK charity BackCare, as well as from the medical profession, the initiative has already been recognised as an important rehabilitation programme for those who are plagued by pain.
Lynne Robinson, founder and director of Body Control Pilates and instructor to the stars, says, 'Pilates already has a great reputation for being an effective way to manage back pain, but the Back4Good® programme takes this to a new level.
'We wanted to create a programme which targets lower back pain specifically. With this in mind we worked closely with leading medical experts in the field of back pain to create a unique set of exercises designed to target many of the complex underlying causes of back pain.'
All Back4Good® practitioners have been trained in dealing with lower back pain, as well as in liaising with medical experts. They are able to tailor sessions to suit the needs of individuals – good news if you're fed up with 'one size fits all' approaches.
So what can you expect? Back4Good® offers two types of class. The initiative's Healthy Back Classes are taught as a preventative measure – using exercises to strengthen the core muscles and spine, these workouts help participants to avoid the onset of lower back pain. For those who have been referred by a medical professional, there are the Back4Good® Sessions – one-to-one sessions or small groups which tailor exercises to take account of existing back pain. There'll be no danger of doing yourself any damage on Back4Good®'s watch...
Kyle Blackburn, a physiotherapist involved in the development of the initiative, says: 'The National Institute for Health and Clinical Excellence has recently recommended that people with persistent low back pain should be encouraged to stay active. Gentle and effective exercise – taught by specifically trained teachers – is therefore key to the treatment and management of most low back pain.' Hear, hear...
Want to show your back some TLC? The Back4Good® Programme is available across the UK – visit www.back4good.eu for details of your nearest practitioner. Not got a bad back, but fancy trying Pilates out for size? Have a look at our Pilates page – we've got plenty of deals and offers to help get you started.