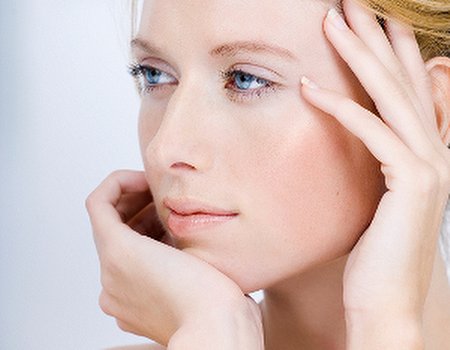 When you're in your 20s, it's easy to feel invincible. The need for anti-ageing creams seems a long way off, and wrinkles are almost as alien as space invaders and flying saucers. As a result, many young people have no skincare routine at all – a mistake which could end up having repercussions later in life. So listen up, ladies – it's time to pay that skin some attention...
DermaHA is a new skincare range that has been designed specifically with young women in mind. The way that you look after your skin in your 20s can have an effect on the way in which it ages in the future – not good news if you are skincare shy.
Heading to the bathroom to slap on some cream? Product princesses may also be at risk of being treated unkindly by age, as they tend to ignore their skin's sensitivity. Luckily, the DermaHA range nourishes and revitalises the skin without overloading it – leaving you feeling pampered, preened and perfectly prepared.
The range, which originates from Sweden, contains natural oils and key vitamins to keep your skin looking radiant and healthy. Stockists Skin Secrets (www.skinsecrets.co.uk) gave us the lowdown on some of the innovative products:
Cleansing Oil
Fair skin can often be sensitive and prone to irritation. DermaHA's Cleansing Oil penetrates deep into the skin gently, removing make-up and impurities without abrasiveness. Essential avocado oils delicately purify the skin and boost vitamin E activity to plump and refresh it.
Vitamin Oil
DermaHA's Vitamin Oil repairs structural skin damage and helps to regenerate new cells, making skin appear radiant and more beautiful. The oil includes high levels of retinyl and GLA, which prevent and combat the finest of lines. Featuring both vitamins E and A, the oil has a double action anti-oxidising and collagen-boosting effect on the skin.
Peeling Creme
Designed specifically to give younger skin a refreshing lift, DermaHA's gentle Peeling Creme contains natural jojoba wax to remove all traces of dead skin cells without causing irritation. Containing soothing aloe vera, the deep cleansing formula leaves even sensitive skin beautifully revitalised and younger looking.
Moisturising Face Creme
Carefully chosen to complement the cleansing process, DermaHA's ginseng-infused Moisturizing Face Creme nurtures the skin, preserving moisture whilst also helping to repair early signs of structural damage. Soothing chamomile and wild rose hip leave the skin's surface smooth and soft.
Face Tonic
The most common skincare complaint of women in their twenties is breakouts. Specially developed to work deep into the skin, DermaHA's Face Tonic contains active substances to help treat blemishes. Gentle enough for the most sensitive of skin types, the tonic repairs skin damage, leaving it soft, healthy and rejuvenated.
Inspired by the DermaHA range to start taking more care of your complexion? We've got lots of facials to help keep your skin looking as young and fresh as it does now – and they're all nice and relaxing, too!