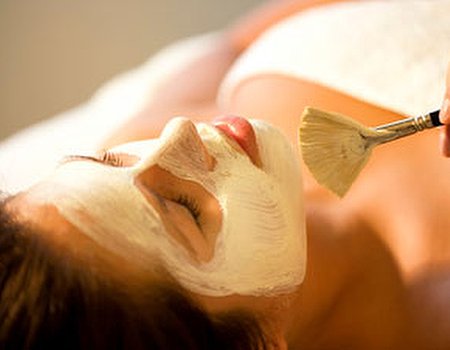 It's February the 29th – the day when certain poor souls who have been waiting for their birthday for four years finally get to eat some cake. But that's not all that's exciting about this extra day – it's also a time when women traditionally propose to men. So, in the spirit of the leap year, we thought we'd look at a few other unorthodox ways of doing things...
Face up to it
Treating yourself to a facial every now and again can work wonders for your skin. But how far are you willing to go to really reap those benefits?
The traditional way: indulge in a facial to cleanse, tone and nourish your skin. Your therapist will also be able to give you lots of great tips so that you can keep up your new skincare regime at home.
Go on, we dare ya: Do something a bit different and book yourself in for a Japanese Geisha facial. If you can look past the bird poo part (yes, seriously) then you may even find yourself hooked...
You poser
Yoga is an ancient practice that has long been valued in different cultures for its ability to relax the body and mind. Time to strike a pose...
The traditional way: There are all sorts of different kinds of traditional yoga, all focussing on body poses, breathing techniques and meditation to help still the mind and soothe the body.
Go on, we dare ya: If you fancy shaking it up a bit, you could always try AntiGravity yoga out for size. This unusual take on traditional yoga sees participants using slings to help them balance – both whilst standing upright and hanging upside down. You may find it tricky at first, but one thing you definitely won't be is bored...
Beauty down under
Pay attention to your downstairs area and you won't be caught out when the sun suddenly appears and everyone goes running for the lido.
The traditional way: The easiest way to get rid of any stragglers, a waxing session will help you look nice and neat down there. Choose from plenty of different options, including a Brazilian or a Hollywood if you're feeling particularly bold.
Go on, we dare ya: You can take the vajazzle out of Essex, but you can't take the Essex out of the vajazzle. Add a touch of TOWIE style to your beauty maintenance with some intimate bling. Well, it's undeniably different...
Nail it
Keeping your nails neat is one of the easiest ways to ensure you look nice and groomed. Nail art is also a fun way to experiment with new trends without having to overhaul your wardrobe – we love it!
The traditional way: opt for a simple red polish or a French manicure for an elegant everyday look, or go all out and play with patterns and textures to match different outfits. The possibilities are endless!
Go on, we dare ya: Back in December, we wrote about the latest in luxury nail treatments – the snakeskin manicure. It's a little unusual, but for a look that'll trump a simple file and polish, why not go for something ssspecial and add some scales to your nails?
Marvellous massage
When you've finished primping and preening yourself, indulge in a massage to leave you feeling relaxed, rejuvenated and ready to handle anything.
The traditional way: There are lots of different forms of massage out there, some gentle and some a little firmer. Try hot stone massage therapy for real blissed out relaxation, or opt for a deep tissue massage if you tend to struggle with knots.
Go on, we dare ya: The power of traditional massage – threefold. Six hand massage may sound like something that could only be administered by a mutant, but in fact it just involves three therapists, all working together – so not quite as whacky as the name suggests.
Want to give one of these bold treatments a go? To be in with a chance of winning a voucher to spend on a bit of pampering, just follow us on Twitter and tell us what you would get up to if you had a spare day to do whatever you liked. Good luck!