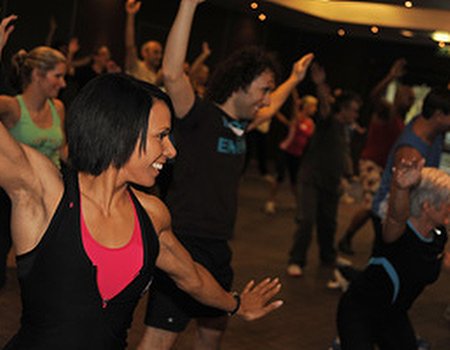 Turn that frown upside down. It can be hard to stay positive when it's dark and cold outside, but we're not ready to give in to the gloom just yet. Inspired by Olympic veteran Dame Kelly Holmes, we're determined to exercise our way through those mood swings – making winter woes a thing of the past. Bring on those endorphins...
It's hardly surprising that Olympic medallist Dame Kelly believes in the power of fitness. Having grown up with a can-do attitude, Kelly is now on a mission to inspire others to get the most out of their exercise routine – even during the winter months.
Dame Kelly says: 'Times are hard for many people right now, but fitness really is one thing that people should not give up on. It's not just about the mental kick of looking good, it's about the energy you have and the happiness you feel as a result. The better you feel, the better you'll perform in whatever you do – whether it's a day job or a sports event.
'Most important is a positive attitude. Despite all my injuries I still knew what I wanted to achieve.'
We love Kelly's way of thinking – and the team at De Vere's Village Hotels obviously do too. They've worked with Dame Kelly to develop a comprehensive fitness plan for people of all ages and fitness levels, designed to keep us all on our toes instead of on our sofas. Time to put down that remote...
Gary Davis, chief executive of De Vere Village, says: 'Unlike regular hotels, we drive a third of our revenue through our full blown fitness centres with cardio gyms, fitness classes and pools, with an average of 4,000 local members at each location. We believe that our clubs are a benefit to the local community and positive fitness for the family definitely improves lives and attitudes.'
Wondering exactly how a session of cardio training or swimming could improve your life? According to Dr Jason Halford, head of experimental psychology at University of Liverpool, focussing on your fitness can have a number of different benefits. 'Exercise is one means of reducing stress, it helps with sleep patterns by relieving nervous tension and reducing levels of cortisol – a hormone that can cause heart disease and psychological problems, such as anxiety and depression.' That's enough to get us down to the gym...
Ready to beat those blues once and for all? To exercise your way to health and happiness, find your nearest De Vere Hotel, or browse our list of physical activities for a fitness solution that's right for you.