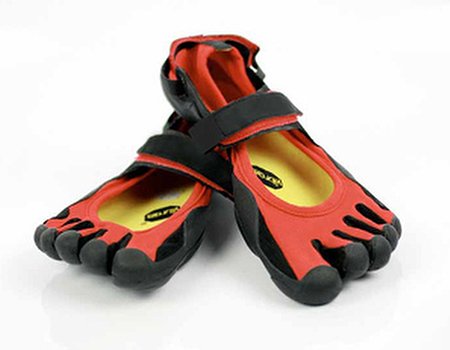 Who needs shoes anyway? Barefoot running shot into the headlines this week when Shailene Woodley, star of The Descendants, wore a pair of strange looking Vibram FiveFingers shoes on the red carpet at the Golden Globes. The Wahanda team weren't quite sure that the actress had mastered the art of dressing for the red carpet – but we were pleased to see that the barefoot running trend is catching on.
The fitness phenomenon that could completely change the way we see exercise, barefoot running sees conventional running shoes ditched in favour of a back-to-nature approach. With many experts arguing that this practice can help to reduce the chance of injury, improve performance and even increase enjoyment of exercise, it looks like the barefoot running trend is set to become pretty popular...
What is barefoot running?
Despite its name, barefoot running doesn't necessarily require you to go completely barefoot. Confusing, eh? Although some runners (including a few famous Olympians) choose to exercise entirely unsupported, it's not advisable to immediately make the change from padded shoes to exposed toes. Instead, most proponents of the activity choose to wear specially designed slim-soled shoes, which keep the feet dry, give grip and preserve all the natural functions of the foot. They're not the glammest that the world of footwear has to offer – but get used to them and you could find yourself much better off...
Barefoot runners believe that by allowing the foot to fall naturally onto the ball when running (rather than on the heel, as occurs when wearing conventional running shoes) it's possible to reduce impact, minimising the likelihood of injury. This reduces the stress not only on the feet, but on the knees, back and hips too – making running an altogether much more comfortable experience.
As if that wasn't recommendation enough, running barefoot has been found to increase efficiency by 4%, thanks to the increased flexibility of the foot. The approach is also valued by runners for the increased sensation it provides, which allows each individual step to be savoured.
What the fitness experts say:
Lopo, CEO of Wahanda, is a huge fan of barefoot running and its benefits, and is often to be found training in the park. He says: 'It really makes sense – humans have been running without shoes for years. It's great because it encourages you to be really careful and conscious of your stride – you can really feel everything.'
And it looks like Katy Young, Deputy Health and Beauty Editor of Harper's Bazaar and a member of the Wahanda Expert Panel, agrees: 'Barefoot running uses shoes without support to engage more muscle. It's great – but do make sure to see a personal trainer first'. Pretty sound advice, if you ask us...
Vibram FiveFingers
Lopo's running shoes of choice, Vibram FiveFingers, may look unusual (they have separate divisions for each toe) but they're the ideal way to maximise performance and provide protection whilst you run. Made of a thin, abrasion-resistant stretch polyamide fabric, the shoes can be used on a variety of terrains – even the red carpet, if Shailene Woodley's appearance is anything to go by.
To view the full range of Vibram FiveFingers shoes and find further information, visit www.primallifestyle.com. Not sure that this take on running is up your street? For exercise solutions that don't hark back to ancient man, why not browse our fantastic fitness deals - you'll be sure to find something that suits you.