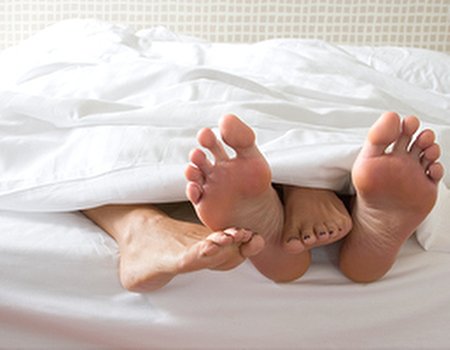 Forget fancy gadgets and luxurious gifts – if you struggle to get enough sleep, we bet a good night's kip is number one on your Christmas wish list. Unfortunately, nodding off is often easier said than done...
According to a recent survey by IKEA, 72% of people believe they don't get enough sleep, whilst 40% of people survive on 6 hours of sleep or less. We reckon something needs to be done...
Feeling a bit stressed? If worrying about presents, party preparation and your Christmas card list is keeping you awake at night, it could be time to take some remedial action. From treatments designed to relax body and mind, to advice on creating a sleep-friendly environment, we can help you to get some precious shut-eye this festive season. There's no need to thank us – it's what we're here for...
Let your cares float away
Sometimes, all that's needed to sort out our sleep patterns is some real relaxation. All too often we try to relax by watching TV or surfing the internet – so that our minds don't actually get a chance to switch off.
If you're ready to really unwind, why not try tearing yourself away from the sofa and indulging in a floatation session at Floatworks. Seriously soothing, an hour in the tank will help to refresh tired muscles and calm your racing mind. You'll feel ready to drift off in no time...
Take some time to rebalance
For many, Christmas is a time for working hard and playing hard. If you find you're regularly burning the candle at both ends, it could be a good idea to try introducing a calming activity into your life. Practising meditation or dedicating a little time each week to yoga classes will restore a sense of balance, as well as preparing you for a peaceful night's sleep. Everybody say 'Om'...
Create the right environment
Even with the best will in the world, it can be difficult to nod off in an unsuitable environment. To give yourself the best possible chance of sleeping soundly, make sure you avoid watching TV or using the computer in your bedroom, as both activities will over-stimulate your mind. You could also try using aromatherapy oils to create a soothing environment – lavender, chamomile and jasmine are all known for their sedative properties.
Invest in a comfortable mattress
We were shocked to discover that, according to the IKEA survey, 72% of people purchase a mattress after less than ten minutes spent testing it. No wonder so many people resort to counting sheep to help them doze...
Sleep expert Jim Horne says: 'I've always been puzzled why people spend so little time choosing a bed when they are going to spend maybe a third of their daily lives in such close contact with it. During sleep the body relaxes, so it's important that when choosing a mattress one takes time to physically and mentally loosen up and test it properly.'
Not only will taking time to choose the right mattress make a huge difference to your quality of sleep – it could also have an effect on your posture, not to mention aches and pains. To make a start on choosing the right mattress for you, go to the IKEA website (www.IKEA.co.uk/mattressguide) or visit your nearest IKEA store, where bedroom experts will be on hand to help.
Want more ideas on how to relax this Christmas? Why not browse our massage, sleep treatment and stress management pages to help you stay serene this season.