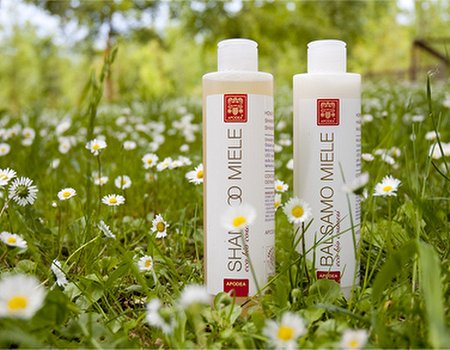 Many of us are used to eating honey on toast in the mornings or polishing our furniture with beeswax, but did you know that bee derived products can also be great for body and skincare? We're starting to look at our stripey friends in a different light...
But hold your horses - before you go running for that jar of honey, you might want to learn more about organic bodycare range Apodea (www.apodea.com). The Italian brand's clever products harness the hydrating and healing properties of honey, beeswax and propolis - so that you can nourish your skin without having to rub your breakfast on your face.
So what's all the buzz about? Apodea is a small family business, run by the Rossi family who practise beekeeping on their farm in Umbria, Italy. Bees from the family hives collect nectar from wild flowers and plants, and in turn produce honey, beeswax and propolis – all of which are beneficial to the body.
Whether you are looking to hydrate your hands, soothe your skin or get luscious lips, Apodea has a product to suit your needs. Choose from hand cream, lip balm, body emulsion, vegetal soap, deodorant, shampoo and conditioner - those bees really have been busy!
So where's the sting? The good news is that there isn't one. Apodea's products are devoid of all synthetic nasties, and come in 100% recyclable packaging. The range is also completely safe for pregnant women, and has a light scent that will appeal to macho men as much as to the ladies.
Love the idea of using bees for beauty? Why not book yourself a honey facial or honey massage for a pampering treat that's really sweet.