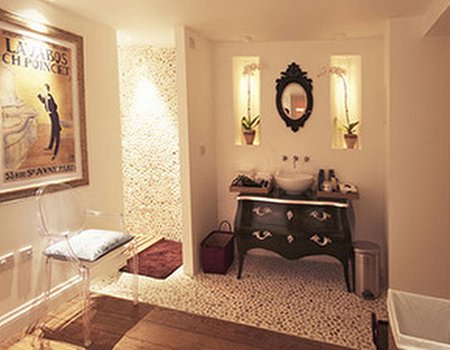 Like every other woman I know, I dream of having perfect skin. I've always been obsessed with looking after my complexion since my teenage years, but my skin regime ranges from a daily routine of cleansing, toning and moisturising to trying any new buzz treatment. I have always struggled with combination skin - oily in my T-zone areas and dry elsewhere - so when I had the opportunity to try out a facial at Adamina Spa, I jumped at the chance.
The venue
Adamina is located on Kensington High Street, just a quick five-minute walk away from the tube station. As soon I entered the spa, I was impressed by the décor. Behind the imposing exterior, the venue actually oozes relaxation with polished wood flooring, high ceilings, crisp white walls and beautiful wallpaper designs. Upon my arrival, I was escorted downstairs to the changing rooms where I had my own private locker, a robe and slippers. I got changed and then I was collected and taken into a treatment room. I made myself comfortable on the heated treatment bed and snuggled under the blanket ready for an hour of relaxation.
The treatment
After discussing my skin concerns, the therapist (Sarah) advised me to have the Purity Deep Purifying Rebalancing Facial to deeply clean my skin. The treatment made use of grapefruit, sage, ivy, pineapple and lemon [Comfort zone] skincare products - an Italian range, which uses elements of plant therapy, marine therapy and fruit acids to apparently deliver both immediate and long-term results.
The facial began with with a thorough cleansing, using a blend of citrus and herbal extracts. Once this first stage was complete, Sarah turned up the lights in order to inspect how my skin reacted. Following her analysis, I now know that I have dry skin across my forehead and cheeks, but oily areas around my mouth and T-zone.
Next, my face was gently scrubbed and cleaned, before a steam mask was placed over my face to open up my pores. Sarah then completed a series of thorough extractions to remove black heads and congestion.
To complete the treatment, a soothing mask was massaged onto my face. Whilst the mask got to work, Sarah also gave me an amazing neck and shoulder massage, before applying a moisturising balm to my lips and leaving me to relax in the room.
I was impressed by how Sarah told me what she was doing and explained why she was doing it at every stage of the treatment to help me better understand how to care for my skin. She also gave me some great tips for when it comes to my home skin care regime - for example, I learnt that I should only use a scrub on my face every two weeks.
The results
I was really impressed with all aspects of the facial, and the attention to detail from Sarah was incredible. The way the therapists at Adamida aim to find exactly the right skincare for you is really helpful and I felt like I had left with my very own beauty prescription.
When I got home, my skin felt softer, fresher and looked slightly plumper, which also left me with a massive smile on my face. What more can a girl ask for?