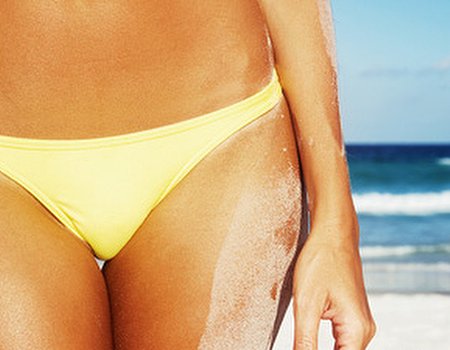 For centuries, we women have been battling to prune our 'lady gardens' in the name of beauty. From using twisted twine (ouch) to waxing, we have come a long way in honing our methods. But a new study conducted by researchers in France, who wondered whether the increasing popularity of pubic hair removal may have played a part in the spread of a skin condition called molluscum contagiosum, has people questioning the sensibility of whipping it all off.
The study, which has since been picked up by the national press, claimed that the removal of hair from the genital region increases the risk of infection. It was conducted by dermatologist Dr. Francois Desruelles at a private clinic in Nice, where thirty patients with molluscum contagiosum were being treated. Among the patients, 93% had had pubic hair removed - 70% opted for shaving, 13% clipped and 10% had been waxed. Researchers came to the conclusion that regularly removing pubic hair makes you more likely to suffer with skin complaints below the belt because areas of fuzz had in fact evolved to act as a protective layer.
Wax fiends that we are, we decided to get to the bottom of this. We sat down with industry insider Vivienne Nweke, owner of Cucumba salon, to get her take on the new reports.
Vivienne reassured us that directly linking bikini waxing to certain types of infection is "irresponsible given the lack of evidence." Indeed, the researchers in the comparatively isolated study only found an association and cannot prove that removing hair actually increases risk.
She also pointed out that if not done properly, hair removal on any part of the body can lead to injury and irritation. If the broken skin is then left untreated, it can indeed become more susceptible to infection. However this does not make the practice unsafe or unhygienic.
"Getting the virus from waxing would mean that either the therapist has it (and she wasn't wearing gloves when doing the waxing) or that another client had it and the same spatulas were used," Vivienne explained
"All salons must use disinfectant, gloves and use new spatulas for every client," she added, "so it's virtually impossible to get the virus this way."
Vivienne also assured us that salons are legally held to high standards of hygiene, as they need to meet strict health and safety benchmarks to obtain a commercial operating license. As the public are directly impacted by their operations, rules are much stricter in salons than other commercial businesses.
Personal hygiene is also a factor when it comes to sensitive areas, and so it's important to carry out a little gentle aftercare. Be sure to keep skin clean, gently exfoliate and moisturise (yes, down there as well!).
According to Vivienne and her team, waxing fans should also take into consideration the type of wax being used. Strip wax can be used on all parts of the body, but at Cucumba they prefer to use hot wax on more sensitive areas such as the bikini line and underarms.
"Strip wax can sometimes strip the skin in a way the hot wax does not," said Vivienne, " and so in such cases the chances of injury are possibly higher,"
Hot wax is a method that is now becoming more popular in the UK. It involves leaving a special formula of thick wax to dry slightly after application, before peeling it and attached hair away at the roots. Strip wax uses strips - often made of recycled cotton - which stick to cooling molten wax to pull out the hair.
The easiest way to avoid injury when tidying your bikini-line is to make sure you go to a licensed therapist. Check out some of our tried and trusted salons here on Wahanda - reviewers have recommended the Lycon wax offered at Dollface, and the friendly, expert service at The Waxing Suite at Dappa Hair Boutique, Camden.