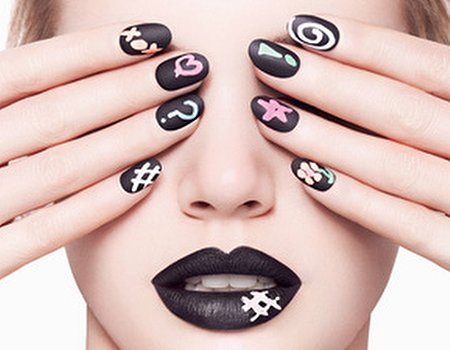 We don't know about you guys, but here at Wahanda we miss school. It may just be the nostalgia talking, but we'd like to return to an era where scribbling and drawing on your hands was an acceptable pastime.
Now we're grown-ups - whatever that means – we're expected to adhere to grown-up etiquette. But it's OK, because Ciaté (of caviar, velvet and foil manicure fame) is launching a new nail polish that will allow us all to indulge our childish sides. Serial doodlers, let us introduce you to the outlet you've been craving: chalkboard nail polish.
Ciaté's latest manicure set comes complete with a matte black nail lacquer to be used as a base coat, four multi-coloured nail art pens in suitably chalky pastels and Ciaté 'Mattnificent' matte top coat to protect your fabulous designs.
Fashion-forward Selfridges has bagged the exclusive on this one, with the £18 kits going on sale on April 23.
A chalkboard + nails never sounded so good.
Photo: Ciaté