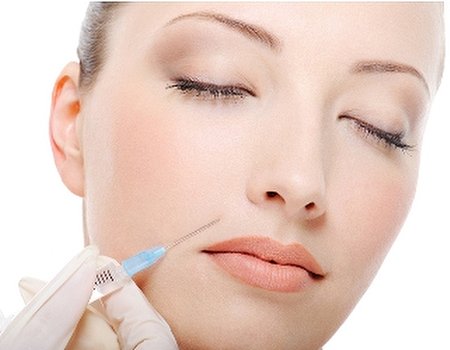 In an age where filling your face with face freezing toxins is the norm, it was only a matter of time before the do-it-at-home alternatives hit the market. But to find out just how popular this cheaper alternative would be, The Good Surgeon Guide thought they would do a little digging, and asked 1,356 women across the UK if they would conduct their own 'non-invasive' procedures. A whopping 22% said they would consider investing in a do it yourself Botox kit, whilst over half of the women in question said they'd let a professional do the deed.
Okay, so crazy statistics aside, let's put this news into proportion. Let's compare it to a more pared down self-styling procedure, like, say, "how many of you would cut your own hair?" Yep, you can see where this one is heading: 11%. And 32% of interviewees admitted they'd trust those well trained hairdressers to stick a needle full of botulinum toxin into their face. Well if they trust them with their hair...
The DIY daredevils did display some common sense though, as only 4% of them would let their boyfriends perform the procedure. It seems they saw the precariously wonky shelf in the hall and thought better of it.
64% of the women that said they would consider doing it themselves said they would rather do it themselves than have a high street beautician do it. You'd think it'd take a lot of courage (amongst other less salubrious qualities) to hold a hypodermic to your face and push, yet in an odd turn of events 81% of the women asked wouldn't be able to remove a splinter from their hands as they were too 'squeamish'.
The founder of The Good Surgeon Guide, Christiana Clogg, said that "the purpose of our site is to stress the importance of carrying out research before undergoing any procedure, including non-invasive treatments. Just because DIY Botox is available it doesn't mean that it is recommended." Wise words. So before you consider any drastic self improvement methods, why not check out how the professionals do things?