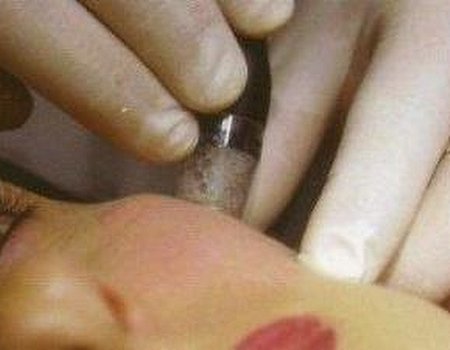 If your skin care regime resembles a spa's treatment list and you're still not happy with the results, perhaps it's time to seek professional help. But fear not - before the surgeons start sharpening their knives there is another option and it's going to blow your socks off. Some super-smart skin experts in the USA have invented Silk Peel™: a new form of microdermabrasion, minus all the bad bits. There is no pain during the procedure, and no rough side effects or reactions.
For all you microdermabrasion virgins, it's basically a process of exfoliating the top layer of skin cells to reveal the fresh ones underneath, leaving you with skin as soft as a baby's. But previous forms of the procedure have used aluminum-based crystals to scrape off your skin, which – as you can imagine – isn't all that pleasant. The Silk Peel™ has done away with this problem, by combining softer medical grade diamonds with a soothing serum that is applied at the same time as the exfoliation treatment. This 'wet abrasion' technique means that the nutrients in the formula penetrate your skin deeper than any lotions or potions you administer yourself, making sure your new cells get all the vitamins and antioxidants they need.
This remarkable new skin saver only takes 20 minutes to complete, and there is no downtime so there's no need for a paper bag post-peel. Results are noticeable immediately so it's a perfect way to be patch, pore and pimple free for that special night out – however it won't last forever, so you may find you need your quick face-fixing hit all too soon...
As with most things USA, it won't be long before it catches on across the globe, so watch out for participating clinics popping up all over the place. But if you want to get a headstart, why not have a butchers at The Violet Clinic Body & Skincare, who have already realised the potential of this golden skincare nugget; offering a range of Silk Peel™ treatments for your face and body. Their trained skincare specialist Urzuala pours passion into her work, ensuring you leave with supple skin as bright as your smile will be. Its great location in St Johns Wood means that you can combine your latest beauty find with a spot of sight-seeing.