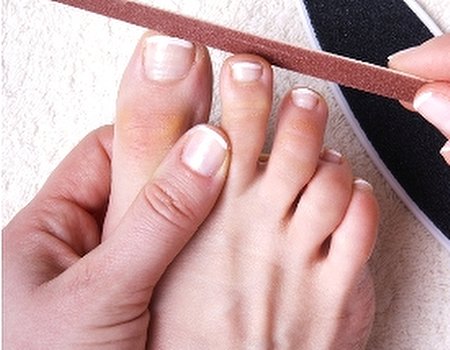 The last bastion of pardonable body faux pas has been shattered; the guilty pleasure of hiding away our less than perfect feet has been deemed unacceptable in the latest PM WAG scandal. Sarah Brown revealed all at a Hindu temple lately, and was immediately accosted by journos worldwide for baring her gnarly deformed feet. When your feet resemble a before shot in a podiatry makeover, it is perhaps an unfortunate religious requirement to remove your shoes and socks before posing for a photo shoot. It just goes to show you never know when your pinkies are going to be on display - so you should always be prepared.
It may seem obvious that a life of dancing in high heels can take its toll on your feet, but it's scary to think that the assumedly salubrious life of governmental leaders can also lead to such aesthetically unsightly atrocities. But don't ditch the heels in horror just yet, as orthopedic surgeon Lewis Stuttard says: "I've known nuns who wear flat, round-toed lace-ups all their lives and still have terrible feet. It's a myth that we should wear flat shoes... We were built for running on the balls of our feet through mud, not walking on hard flat surfaces."
There's hope for us yet then! While beautiful celebrity soles may not be a realistic aspiration, there are plenty of inexpensive pedicure treatments out there to tame those unruly feet of ours. In these worrying times where the state of a PM's spouse's feet affect our electoral judgements, it is time to ensure that we take good care of ourselves, from top to toe - you never know when the podiatry police will strike next.
Get your own feet ship-shape and check out our pampering pedicure products for all your feet ailments - and if you're in the big smoke sharing the same pavements as Sarah Brown then take a look at pedicures in London for foot treatments near you.