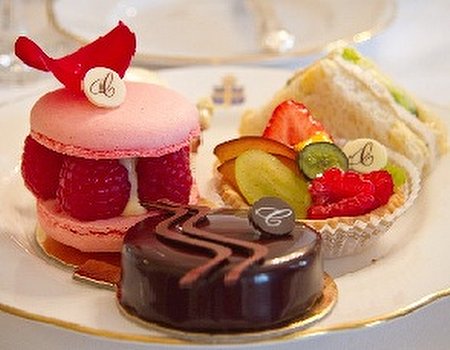 Gluten free afternoon tea at Claridges with complimentary champagne and a goodie bag to take home? I bet you never thought that the words 'gluten free' could sound so appealing. Keen to eschew the usual stigma that allergen free food is marred with, Genius have launched a new brand of gluten free products that look and taste like 'normal' food. And boy have they done a good job. With a glass or two of bubbly to sweeten the deal, we are shown to a table laden with goodies; scones, tarts, sandwiches, pastries - all of which look amazing.
Photo Credit: Daniel Regan
Talking to the other foodies in the room, I find out just how heartbreaking allergies can be; imagine a life without scones, beer and bread. Unfortunately 15% of Brits don't have to imagine, and actively avoid gluten for health or wellbeing reasons. Never would I have believed that the quintessential English past time of taking afternoon tea could be such a nightmare to so many people - I didn't realise how lucky I was to gobble down gluten based products without experiencing any adverse effects. Though if all the food is as good as Genius', I'm not sure I would mind all that much...
Chatting to Lucinda, the brains behind the brand, she tells me an endearing story about how she watched her little boy suffer at the hands of gluten intolerance. Combining her skills as a trained chef, with a mother's compassion, she lovingly created Genius to ensure that those suffering from allergies could still enjoy eating a healthy variety of food. Their ethos is food isn't really food unless it is delicious. This is quite simply portrayed in their company motto: 'yummy hooray'.
Their bread is available throughout all major supermarket chains nationwide and they are working on introducing more products to the range. I'm sure to invest in a cake or two, as though I ate more than enough food today I haven't been left with that habitual bloated feeling that normally accompanies a stodgy bread based lunch... maybe there is something in this gluten free lifestyle. If you want to find out more about how to improve your diet, or want some nutritional advice, let Wahanda help.