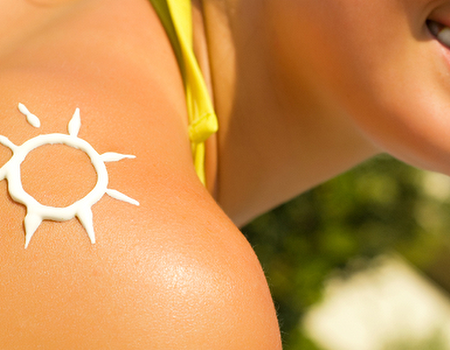 Summer holidays bring a whole lot of organising, packing, re-packing and preparation with them. It's the stressful run up to some of the most relaxing weeks of the year, so let us give you our top travel essentials and be a calm chameleon in the pre-holiday weeks.
Spray Tanning - Give yourself a headstart on your beach holiday with a cheeky spray tan or tanning moisturiser. Holidaymakers won't be shielding themselves from your pale reflections whilst you're sunning yourself on the sand and you'll feel confident in your bikini from day one! See the best places to book a spray tan and check out our spray tan deals.
Power Plate Sessions - Whether you want to lose an extra few inches to fit into your favourite bikini or simply sort out that cellulite quick-sharpish, try out Power Plate and its vibrating mastery. The easiest way to shed the pounds without having to spend hours on a treadmill, it's claimed that 10 minutes on a Power Plate gives the same results as an hour of training - we know which one we'd choose! Find great power plate deals.
Anti- jetlag Supplements - You know the feeling: you've been travelling for hours, there are delays and now a storm outside has decided to scupper your evening flight plans. Leaving on a jet plane can sometimes be a huge hassle, so it's great news for worriers that extracts of pine bark can drastically reduce symptoms of jetlag - fatigue, insomnia, nausea and irritability (often also encountered if we don't get our afternoon cuppa at Wahanda HQ). Pycnogenol contains extracts of pine bark from the maritime pine that grows along the coast of southwest France and is readily available from health food stores and pharmacies to help combat jetlag. Have a look at www.pycnogenol.co.uk to learn more about nature's super antioxidant
Mani/Pedi - Summer is my favourite month, but the worst thing when the sun starts to shine and sales of ice-creams go through the roof is suddenly seeing hundreds of manky feet in pretty flip-flops! A quick pedicure is the best remedy for sun-deprived tootsies, sorting out hard skin and cracked heels as well as giving those nails a beautiful lick of colour. Search for pedicure offers near you.
Relaxing Massage - If you've had a busy week before you're due to jet off or are a little nervous about being in the air, a relaxing massage is often the best way of relieving tension and getting you ready to take on the world. Swedish Massage can help with the final detox before braving the beach and Aromatherapy Massage can use specifically blended oils to help you relax before a long flight. Find your favourite massage offer.