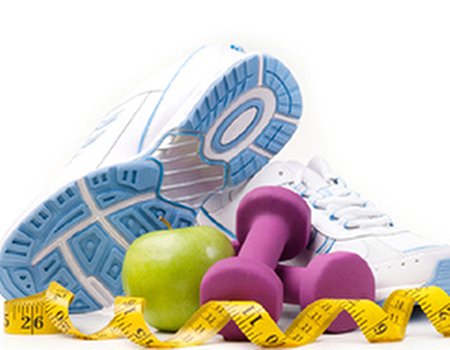 We've had that time of year where you've rested and indulged in some magnificent presents and relaxation. Let's not forget the food - the Christmas dinner, the snacks after the Christmas dinner, Boxing Day lunch, and then the snacks after Boxing Day lunch, plus all the chocolate and sweet goodies leftover that will last well into 2010! After all that, many people decide it's time to tighten up the tracksuit strings and get detoxing in order to lose the extra pounds and get back in shape. Whether you're a fitness fanatic or simply thinking of trying out a post-holiday detox without committing yourself to a serious regimen, we have some fabulous fitness deals to help you along the way.
For the Fitness Gods & Goddesses
We all like to cut loose during the holiday season but fitness fanatics know how to work out, and they do it well. Detoxing is as easy as 123 when you find the perfect deals to suit you and your body, which is why a fitness programme is ideal to help you lose those extra pounds luxuriously. Champneys' new 7 night Fit Camps at £950 are a great way to get your body back into business with daily regimes packed with fitness, nutritional meals and some well earned spa treatments to pamper yourself after all that hard work! Available at Champneys Forest Mere, Champneys Henlow and Champneys Springs, this dynamic fitness experience will make you feel like a new person.
If you're a fan of making fitness a time to cut loose from the real world and enjoy endorphins in the fresh country air, health farms and retreats are the perfect way to lose unsightly bulges. Whilst kicking those extra pounds into oblivion, you get to enjoy staying in the lap of luxury and being given a nutritional diet to help with your fitness regimen. All you need to do is remember to pack your trainers! The 5 day Luxury Transformation Retreat (£1350) at Brandshatch Place promises you will lose up to 20lbs in just 5 days and includes 35 hours of exercise time in total with rest periods and nutritionally balanced meals to get you through the day.
For the Health Nuts
For those who like taking their detox seriously with some specially made treatments to aid bringing in the New Year the healthy way, body firming wraps and exfoliations are the perfect way to get your body in ship shape without the need to go under the knife or spend hours on a treadmill. With glowing skin (and not because of sweat) and a contoured body thanks to losing excess fluid, this enzyme body firming treatment at DestinationSkin (£25) is perfect for getting to grips with your detox – plus it's with a 50% off discount! If you're starting your health kick with a friend, this 2 for 1 Thalgo Body Wrap at Spa LONDON Swiss Cottage (£55) is an algae wrap rich in minerals, vitamins and micronutrients and is perfect for enjoying a bit of detox pampering together as well as being able to treat a friend for free.
For the Pamper Prince and Princesses
If you're going to detox, you might as well do it with a bit of indulgence right? If that sounds like you then a luxurious spa break is just your cup of tea, packed with fantastic treatments that just happen to be great for your body. Sometimes all you need is a night away from your hectic lifestyle to get a good night's sleep in a luxurious hotel and relax in the spa to get your mind back on track. By adding on some detox treatments, it makes the whole break completely worthwhile. This 2 for 1 One Night Purity Spa Break at the fantastic Formby Hall Spa in Southport treats you and a friend with a stay in a great hotel of peace and tranquillity and pampers you with a luxurious treatment each. Who said detoxing was hard? Wahanda loves giving people the chance to enjoy a great pamper day for less, which makes this Spa Day with Free One Night Spa Break at London Beach Country Hotel & Spa perfect for treating yourself to a bit of R&R. When you book a Spa Day at London Beach, you'll receive free accommodation in the hotel for one night with a full English breakfast. Now that's definitely something to detox for.
It's always handy to get a freebie too, and we can offer you plenty of those. Our detox deals are full of free gym passes and fitness offers, including this Free 30 min Personal Training session at one of the 48 Harpers Fitness locations nationwide to help you get the fitness bug. If you're looking for something a bit more involved, we at Wahanda love this Free 3 Day Fitness Pass at Nuffield Health Fitness & Wellbeing Centres (with a whopping 50 locations nationwide), which will also get you entered to win a year's free gym membership worth up to £1100.