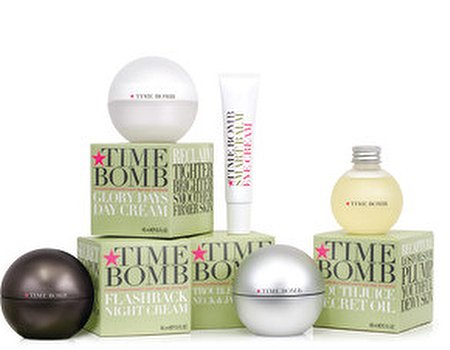 It is a fact of life that as we get older we start to notice a few changes in our lives and looks. Perhaps you've noticed a line here and a crease there. Or maybe your energy levels have dipped and you've developed a taste for Werthers Original. Whatever it is, the signs and symptoms of ageing don't always leave us feeling our best. In fact, they can leave us feeling downright blue and in need of something to make us feel like ourselves again. To relight our fire, if you will. Thank goodness for Time Bomb, a collection of 'secret weapons' created to help women around the world to age 'victoriously' and introduced to us by none other than singer/national treasure Lulu. We tested out a few things from their anti-ageing arsenal, here's what we thought…
Time Bomb
Time Bomb began life as Lulu's personal collection of anti-ageing formulas, when she asked Dr Joe Cincotta for a truly effective eye cream that would keep her looking bright-eyed and bushy tailed even in the spotlight. After the eye cream came a day cream, then a plumping night cream. Delighted with the results (and with reassurance from the media praising her youthful complexion) Lulu wanted to make the range available to women everywhere and called in Gail Federici to help her do it. The range launched in 2007 and today is a sell-out success in the UK and US offering everything from volumising shampoo to body cleanser and, of course the Lulu special eye cream.
Our favourites from the range:
Blast to the Past Dermabrasion - tested by Marianne, Assistant Site Editor The name might sound pretty full on but I was genuinely surprised at how gentle this scrub felt on my skin. The texture is thick and creamy meaning that the exfoliating crystals do not feel at all scratchy against the skin - great for sensitive souls like myself. The scrub uses magnesium oxide crystals with straight edges that allow them to go underneath the skin's top layer of dry, dead cells and lift them off. I'm no dermatologist so can't really comment on how this unique shape affected my skin in comparison to other scrubs. However, after using and moisturising my skin looked great and I felt that the scrub was gentle enough to use a few times a week - something I'll be doing from now on.
Derm Warfare Night serum – tested by Rebecca, Community Manager Designed to help shed dull and dead skin, this clear gel is jam-packed with skin-loving ingredients like green and white tea, watermelon, apple, lentil fruit extracts and Glycolic Acid. The exotic formula (lentil fruit anyone?) also helps tighten new skin, reducing the appearance of pores and revealing a smoother complexion. After cleansing, the gel was absorbed into my skin within seconds, leaving my face feeling smooth and not at all tight like some other products out there. There was no greasy residue meaning no waiting around needed before applying step two, the night cream…
Flash Back Night Cream – tested by Rebecca, Community Manager Here at Wahanda Towers we believe the ultimate night cream should contain the number one 'must-have ingredient of the moment': hyaluronic acid. Fortunately, Flash Back Night Cream contains not only hyaluronic acid but a whole host of vitamins and antioxidants to soothe stressed skin and have us looking wide awake when the alarm goes. Despite having just applied serum, the night cream went on smoothly and, again, didn't leave me feeling greasy. I loved the scent - shea butter, rosemary oil and perfect-before-bed lavender oil. The smell reminded me of a few high-end spa brands, and results were just as good. This cream melts into skin - perfect for anyone who's ready to hit the sack. 
Complexion Cocktail with a shot of B12 - tested by Marianne, Assistant Site Editor I often feel like a busy week takes its toll on my appearance, so I couldn't wait to try the Complexion Cocktail which promises to 'give tired skin a jolt'. Containing vitamin B12 and a blend of hyaluronic acid, the formula works best on clean skin and, since I'm reluctant to give up my daily layer of foundation, for me this meant applying in the morning. The cocktail glides on smoothly leaving a zesty scent and creating a great base for make up. Throughout the day my skin looked healthy and even (and not shiny as I feared). By the evening it was looking a little tired again, however, this was roughly ten hours after I'd used the cocktail so hardly surprising. I'll try it again.
Hand cream (used by the whole editorial team) They say a woman's hands hold the secrets to her age so it's no surprise that Time Bomb has developed a cream to turn back the 'hands of time'. Their Hand to Hand Combat Cream contains argan and olive oil to smooth wrinkles, soften mature skin and promote better elasticity. We loved the rosemary scent and creamy texture which, despite its thickness, is quickly absorbed and does not leave hands feeling greasy. A hand-bag must-have for women of any age.
The entire Time Bomb range is available from QVC and www.timebombco.com