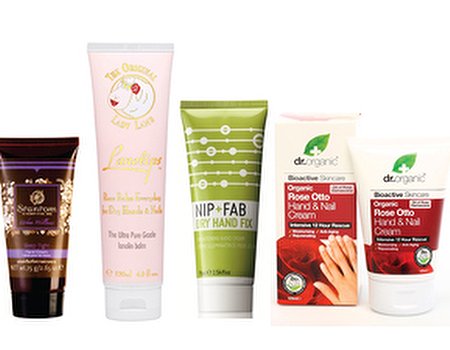 It is said that a woman's hands reveal her age, and yet while we all spend time and money keeping our faces looking youthful few of us worry about our hands. Apart from the odd manicure, most of us do little to take care of them and after a lifetime of typing, washing up and carrying heavy bags it shows.
Cold weather and central heating can mean hands get especially dry at this time of year, often becoming cracked and sore. So if you want to carry on telling people you're turning 21 again, now is the time to get moisturising. To help, here's a handy little list of some of the best hand creams on the market, tried and tested by the Wahanda team. The hand crème de la crème if you will...
Dr Organic Rose Otto Hand & Nail Cream, tested by Judy
"In general, I really dislike hand cream - as much as I hate having dry hands, I don't like that clogged up feeling when the product doesn't sink in properly. As someone with really sensitive skin I tend to steer clear of scented creams too, but this Dr Organic one came highly recommended and is mostly natural, so I decided to give it a try.
"There's nothing worse than an overly fragranced hand cream (especially when someone puts it on next to you on the tube) but I loved the scent of this Rose Otto one - really light and delicate, with just a hint of rose. It claims to be a 12 hour rescue cream and I have to say, it really did the trick. My hands were in terrible condition and after using this for a few days, I really noticed the difference including around the nail bed. It has quite a rich consistency but melts into the skin quickly, which is a must for me; I also like that the ingredients are so full of natural elements, from honey extract to various flower oils. Even if I don't stick to my new hand cream regime, it can be used on elbows and other parts of the body too so I'll definitely be relying on it one way or another." Dr Organic Rose Otto Hand & Nail Cream, from £6.69
Sranrom Sleep Tight Hand Cream, tested by Natasha
"Sranrom's Sleep Tight hand cream fuses the delicate scent of Champaca, Ylang Ylang and Lavender to create a harmonious, heavenly moisturiser. The flowery fluid left my hands superfluously soft, supple and brimming with locked-in moisture. What's more, the lightweight formula meant there was no greasy residue. Amazing stuff!" Sranrom Sleep Tight Hand Cream, £8
Lanolips Rose Balm Everyday for Dry Hands & Nails, tested by Elly
"Having really sensitive skin and eczema on my hands picking hand creams can be tricky. Lighter lotions can exacerbate my eczema, leaving me itchy and chapped but heavier creams leave my hands greasy rather than moisturised. I'm a huge fan of Lanolips lip balms so was looking forward to trying the Rose Balm, which contains medical grade lanolin. The more I used the cream the softer my hands became and I was amazed when it started to clear up my eczema, leaving my hands almost clear within a week.
"Before trying this product I had no idea how moisturising lanolin was - it's able to hold up to 200% of its own weight in water and maintain hydration levels of the skin. Far from greasy, the cream sinks into the hands quickly without leaving any greasy residue on the skin, leaving a very faint, slightly powdery (in a good way!) smell of roses. I will be buying this product again, it worked really well for me and as a little goes a long way, it's great value for money." Lanolips Rose Balm Everyday for Dry Hands & Nails, £10.20
Dr Organic Virgin Coconut Oil Hand & Nail Cream, tested by Marianne
"When I read 'fast absorbing' on the packaging of this hand cream, I didn't pay it much attention. From my experience, lots of hand creams say this but they still leave my hands feeling a bit slimy - meaning I'm reluctant to use it as often as I should, and my hands quickly get dry again. I was delighted to find that Dr Organic's Virgin Coconut Oil Hand Cream actually does what it says on the packaging. This rich cream is absorbed instantly without any greasy residue. My hands were left soft, moisturised and smelling slightly like those coconut Liquorice Allsorts. Delicious." Dr Organic Virgin Coconut Oil Hand & Nail Cream, £5.99
NIP+FAB Dry Hand Fix, tested by Becca
"This hand cream is labelled as 'brightening hand cream' but don't be scared off – there's not a hint of shimmer in sight. Really lovely in texture, this cream has the most amazing smell! I can't quite put my finger on it but it conjures up images of spicy cinnamon coffees on a dark, cold, winter's afternoon and lasts for hours too. Non-greasy and perfect for everyday use, this is one hand cream that I'll keep buying – plus, the kitsch green packaging is super-cute (which is always a winner!)." NIP+FAB Dry Hand Fix, £9.95