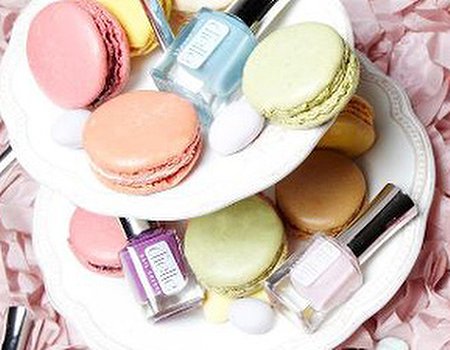 If we told you we'd discovered a nail-care range that promises great colour, lasting wear and is changing the world one bottle of polish at a time you'd probably think the fumes had gone to our head. Well we're not imagining things. Dielle is real, high-quality and committed to bringing about positive social change in some of the most deprived parts of the world.
Dielle, meaning 'goddess', is a nail brand dedicated to helping women everywhere, enhancing confidence and beauty with a range of vibrant nail shades and donating some of the proceeds to women in underprivileged parts of the world like Haiti.
Having lived in Port-au-Prince for more than 12 years, Dielle founder Rosalie wanted to do something to change the deprivation she had witnessed. She founded Dielle and partnered with reliable organisations in Haiti that work to improve the lives of women and children in the country. For example, the Haiti Hopistal Appeal, to which Dielle donates the entire profit from every bottle of 'Everlasting' sold. Dielle are also proud supporters of The A21 Campaign (who fight for the abolishment of human trafficking), donating all proceeds from bottles of 'Unyielding Courage' to the charity.
As well as bringing about positive social change, Dielle wanted to create a range of beautiful nail polishes that were fast-drying, glossy and durable. Taking inspiration from seasonal trends, the shades are designed to fit in with the life of the 'modern goddess', taking her from 'boardroom to playground' with ease and complementing every skin tone.
Last week we set to work testing out a few of Dielle's top shades - it's a tough job but someone's gotta do it. Here's our verdict:
Colour
Dielle's collection covers a broad spectrum of shades - from pretty spring pastels through to darker wintry hues, with a few metallics and brights in between. Some of our favourites from the collection include the perfectly timed 'In Bloom' (a pastel pink that is subtle rather than sickly), 'Spring Promise' (a light mint green with a metallic sheen) and 'Aged Coral' (a sophisticated terracotta take on spring's orange trend). Our pick of the bunch, however, has to be the dark and mysterious 'Everlasting'. Not only is this one of Dielle's charity shades, this deep teal takes just two coats to build up a rich 'goes-with-anything' colour and we can't get enough of it. A great alternative to black, this dark blue is both on trend and perfect for a season that can't quite decide if it's winter or spring.
Application
We've tested a lot of nail polish over the years here at Wahanda and if there's one thing we hate it's when a seemingly perfect shade lets you down on application. We're happy to say that Dielle polishes go on smoothly and take just 2-3 minutes to dry. Most of the shades took two coats to build up to desired colour (although after one they were impressively streak free). The only shade that required a bit more effort on our part was 'Spring Promise'. This pale green, if worn alone, takes a few more coats to build up, otherwise it looks a little translucent. Further 'testing' showed us that worn on top of a stronger, complimentary, shade like white or black it's a great way to add a metallic sheen.
Durability
While it would be nice to say our favourite shade 'Everlasting' does exactly what it says on the tin, it would also be a little far-fetched. Creating a nail varnish that lasts forever is no mean feet – besides, we might not want teal nails for the rest of our life. While these nail polishes might not be 'everlasting' they're certainly long lasting and we're happy to say that after a few days of durability testing here at HQ – that's lots of typing, tapping and tweeting – these shades lasted a good three days without a top coat which is more than many high street brands.
Verdict
Overall we were very impressed by Dielle's range of polishes. The colours are gorgeous, they go on easily and they last. What more could a girl ask for? If gorgeous nails and good causes are your thing take a look at the entire range at www.dielle.co.uk.