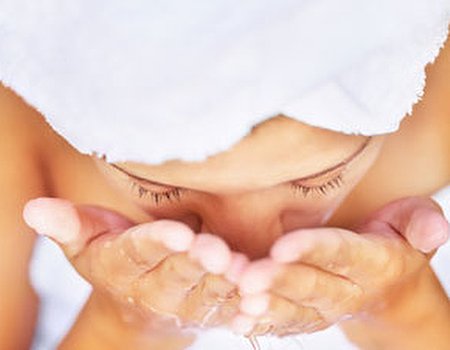 Every fashion week brings with it a 'must-have' show-stopping piece from the catwalk and a less flashy, but equally important, must-have from backstage. This year, the beauty object of our affection could only be one thing. It's the product the beauty world has been talking about for the last few months and the one item backstage makeup artists swear by: micellar water.
You've probably heard the buzz about this revolutionary cleanser, which is already a beauty essential in France and has recently made it's way into beauty baskets across the globe. So what's all the fuss about?
This cleansing water gently removes all manner of stubborn makeup using 'micelles' (tiny oil particles within the water) which attach themselves to the dirt and makeup particles and dissolve them. It leaves behind thoroughly cleansed skin without the need for toner, soap or scrubbing.
With more and more versions hitting the shelves, which one do you choose? We tested out three of the top-rated; here's how we got on….
La Roche-Posay Physiological Micellar Solution: tested by Elly, Senior Marketing Manager
I'm a huge fan of La Roche-Posay, so when I heard about their Micellar Solution I couldn't wait to try it. I wasn't disappointed. Great for sensitive skin, this solution takes off all your make up, including mascara, without a hint of stinging or soreness. It leaves behind no sticky residue like other products I have tried. It simply leaves the skin feeling clean and soft.
I have added it to my daily skin routine, using it alongside my usual cleanser as a sort of pre-cleanse in the evening. I love going to bed knowing that my skin is completely clean and this product is great for that, however I don't think it's a substitute for a decent cleanser, you need to do that too. The only down-side is the amount of cotton pads I'm getting through – about four to six a night, but all in the name of truly cleansed skin. Rating:4.5/5
£11.50 from Boots
Bioderma Sensibo H2O Micelle Solution: tested by Marianne, Assistant Site Editor
I have dry skin and am always a little nervous of using anything other than a creamy cleanser on it. When I heard about Micellar Water, I was suspicious as its clear appearance makes it resemble the kind of alcohol-based cleansers that normally dry out my skin. I kept reading glowing reviews of Bioderma Sensibo H2O (which is specially formulated for sensitive, normal to dry skins) and decided to give it a try.
This cleansing water is extremely gentle on my skin, removing all traces of makeup and leaving my face feeling refreshed but not dry. Using this alone on a cotton pad has simplified my skincare routine, however, since I repeat the process at least twice I am getting through the bottle fast which is a bit of a problem since at this moment it's quite difficult to get hold of. I bought mine in BeautyMART at Harvey Nichols, and there are plenty of websites offering to ship it from far off lands, but as yet it isn't exactly mainstream. For this reason alone I won't give it the full five stars, but if you can get hold of it it's a great option for dry skin. Rating: 4/5
£16.50 from BeautyMART at Harvey Nichols
L'Oréal Paris Skin Perfection 3in1 Purifying Micellar Solution: tested by Rebecca, Community Manager
I have combination skin and a very oily T-zone, and always thought the best way to combat this was by chucking lots of harsh products onto it. When a skin consultation with Dermalogica revealed that my skin was also very sensitive I was advised to use gentler products and take greater care to remove my makeup. L'Oréal Paris Purifying Micellar Solution promised to help me with both without breaking the bank. I use it after cleaning my face with face wash (the instructions say to hold on the skin for five seconds but I find wiping is very effective) and am always amazed at how much makeup is still on my face, particularly in my eyebrows and around my nose. Until recently, these remnants went unnoticed and would stay on my face overnight, blocking pores and causing oil, but now when I go to bed my skin feels squeaky clean, without being tight. I love it. Rating: 4.5/5
Currently £3.33 from Boots